He has been accused of having the IQ of a goldfish, going off on inane rants, trivialising the very serious business of video games, conversing with inanimate objects and being prone to moronic 'psycho babble'. Yet, he is the biggest thing on YouTube. How big? Well, big enough to be a lot bigger than Taylor Swift, Justin Bieber, Rihanna and Lady Gaga. The year 2013 has been sensational for vlogger and video game commentator- Felix Kjellberg, whose channel on YouTube became the most subscribed to channel of all time, in August this year.
Reports state that the 24-year-old's channel (which was established in 2010) quadrupled in 2013 and has an estimated YouTube ad revenue of anywhere between $1.2 million and $14.6 million. You probably know this guy as PewDiePie.
He makes money out of playing video games, ably aided by a beautiful Italian girlfriend and two extremely adorable pugs… in his pajamas, in front of the camera.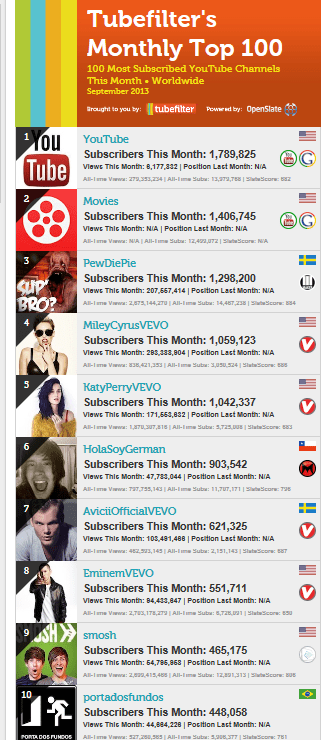 Who is PiewDiePie?
In his own words, he is, "just a guy from Sweden who likes to laugh and make other people laugh. Sharing gaming moments on YouTube with my bros!" He isn't one of those aggressive, misogynist gamers, who are all about the fancy jargon and know-it-all ways. PewDiePie is an immature little boy stuck in an adult's body. He makes funny videos of himself playing games- he favors ones with a horror theme- and shrieks and babbles his way through commentary. He can grate on your nerves (I say this at the risk of incurring the wrath of his devoted followers- the 'bros'). But, for the most part his videos are hilarious and informative.
Additionally, it is said that gamers such as PewDiePie are part of the emerging Generation C, which is all about connection, curation, creation and community. His Facebook page has 1.7 million likes and he is followed by 1,929,297 people on Twitter. This apart, posts and fan art about his channel regularly appear on Tumblr.
Let's take a look at PewDiePie's reign over YouTube.
YouTube, PewDiePie: Fight for the Top Spot
You'd imagine that 2013 was undoubtedly Miley Cyrus's year, what with all the twerking, nudity and sledgehammer licking. But, even she could hold on to the most-viewed spot on YouTube for a mere month before PewDiePiew knocked her off her Wrecking Ball-sy throne. In September, he had 215.6 million views on YouTube- 54.5 million behind Cyrus. In October, with over 192.6 million views, he was back on top.
By November, YouTube's in-house channel bypassed PewDiePie as the most subscribed-to channel on YouTube. Even so, PewDiePie still reigns supreme when it comes to views and the Social Blade score. As of December 16, he had more than 17 million subscribers.
Soaring Popularity
So, why is this zany Swede such a hit? Surely, it cannot be his encyclopedic knowledge. A lot of other video gamers are better qualified in that department. Well, his scruffy good looks are not to be discounted… which is probably why most of his fans are female. Also, seeing as to how we live in a world in which weird humour is de rigeur- think rape jokes, mock superficiality, pseudo gay antics … this guy has got his act sorted out, replete with the generous use of the F word and in-your-face humour.
But, that's just not it either. PewDiePie has an addictive personality. He is goofy, down-to-earth and doesn't take himself seriously… not by a mile, if you watch his videos. And, he is responsive to feedback- when people got furious when he released his Rape me song, he took the video down.
He knows how to treat his followers. Watching his videos is like hanging out with him, and he has amassed a ginormous pack of fanatic followers. And, then, he has this whole likeability thing going, thanks to his charitable ways. He is the One Direction of video gaming, if one may dare say so.
No viral Virtues
PewDiePie is different from tons of other success stories in the recent past in so much that he wasn't a viral rise to fame. Till mid-2012, his channel wasn't even in the top 200. He didn't have the top spot at the start of 2013 either… funnymen Smosh had that honor. Instead, his channel has been marinating and progressively growing. The vlogger displays brilliant consistency- he posts to YouTube almost every day.
So, at a time when hard work and passion are on their way out, these virtues are the very things that define PewDiePie's success. Say what you will about his apparent silliness… fact is, this youngster has mastered the art of minting money, merely by intelligently manipulating social media.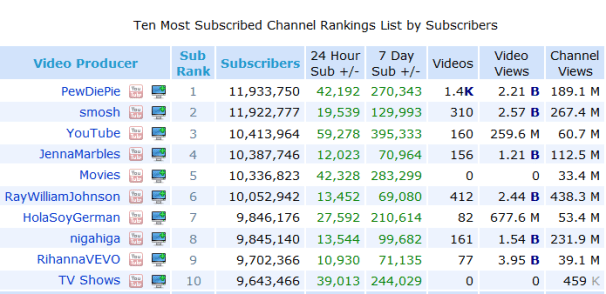 So, what can you learn from PewDiePie?
Be consistent. Post something every single day. Make it part of your routine. You might see PewDiePie as a slacker who just goofs off all day with a bunch of video games. But, he\'s made a habit of it, and it has paid off handsomely.
Develop a personality. Gamers who probably know a lot more than this guy don\'t have even half the number of views. What sets PewDiePie apart is his style of playing… this has nothing to do with how well he plays. It's more about the insane commentary, the facial expressions, the squealing, the lewd humour. So, work on creating a unique identity.
Humour. Always works. Find your funny bone! Then again – not all of us are comedic geniuses, so feel free to skip this.
Make yourself extremely accessible to your followers. While making his appearance at the Social Star Awards in Singapore this year, PewDiePie reportedly ignored security warnings to spend time with a horde of fans. Today's non-traditional YouTube stars spend a lot of time nurturing their fans on various communities. If someone with 17 million followers manages to stay in touch with his fans, you can too!
Make it lively. PewDiePie doesn't boast perfect English speaking skills or charming etiquette. But, he can contort his face and scream an awful lot, for an awful lot of time. So, I guess that means people are attracted to high energy levels.
Everyone likes a good guy. When the gamer won the 2012 Gaming King of the Web award, he donated all his winnings to the World Wildlife Foundation. He also runs a charity and raises funds for various causes. So, work towards giving your online presence a humane touch.
Don't take yourself too seriously! Self-effacing personalities seem to be more trusted in social platforms. Open yourself up to criticism… you'll be appreciated for your courage even if you don't have all the answers.
If nothing else works, you know what they say… when in doubt: beautiful women and pugs, pugs, pugs. Kidding!
Book your Radarr demo today!