Okay, stab me if you must, but you've got to admit Katy Perry isn't one of the most popular people in the world, because of her spell-binding vocal ability. Sure, she can hold a tune better than Britney Spears, but then, that is hardly saying anything (go on, stab me again). So, why/how does everyone know her, let alone, love her? Three words. Or networks.
Put together, they've made this Internet-incubated artiste a Roaring (the song, till date, has been viewed 308,011,579 times on YouTube) hit. One who has surpassed the likes of social czars Justin Bieber and Lady Gaga, in popularity. It has even been reported that Lady Gaga, Bieber and Perry have more Twitter followers than the entire populations of Germany, Turkey, South Africa, Canada, Argentina, United Kingdom and Egypt!
It was less than two months ago that Perry pulled ahead of Bieber in both Twitter followers and Facebook likes. How did she manage it? Well, she began by allowing fans to vote for a song from album Prism to be released early on iTunes. She also gave fans a great deal of power by asking them to create a video as a means of promotion for her song Firework (413,308,151 YouTube views), and rewarding the winners handsomely. Interestingly, she hit jackpot by asking them- not to make a video for the song itself- but to talk about the people who were most important in their lives. Human connection right there!
The easiest way to reach a larger audience base. In November, 2013, the singer came up with PrismLights- a live compilation of Instagram photos tagged with #KatyUnconditionally, to promote Unconditionally (37,626,218 views).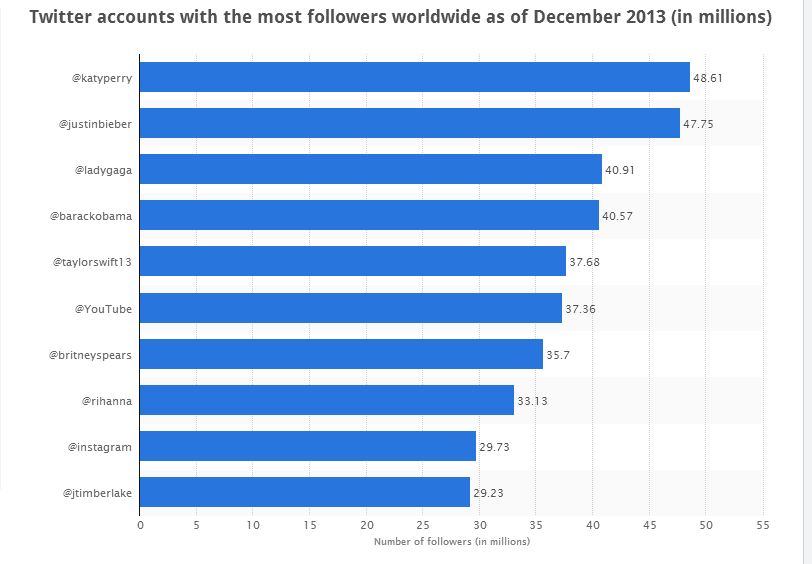 Data Courtesy Statista.com.
The lady, for her part, recently owned up to her social media success, saying that she has learnt to, 'tame the social media dragon (sic)'. Yeah, being the serious business firm you are, the very thought of taking lessons for someone who is known for waxing eloquent on candy and California might seem ludicrous. But, when it comes to social media and these celebrities, one can only learn and hope to keep up! Here\'s a look at Katy Perry\'s rise to the top of the social media charts.
Don't use it just to promote yourself…
… she said, in an interview, "And don't be self-indulgent." Makes sense, dunnit? Nothing is more off-putting than righteous pompousness. You don't want to self-promote and come off as someone who thinks they're better than everyone else!
Play on emotions, don't exploit them!
When Katy Perry launched Firework, she put the spotlight on her fans, by asking them to create videos inspired by the people they love. She understands that it's not about posting a tweet or a Facebook update, it's about really connecting. So, find ways to engage your audience on a more humane level; play on emotions. But, don't exploit them!
What\'s your personality?
Work on your 'personality'. Perry- stab me thrice and be done with it- is no more special than scores of bathrooms singers from around the world. But, why are people so concerned about the goings on in her life? Because, her social media presence has a distinct character. So, give your company's social pages a personality. By being fresh and thought-provoking, you'll encourage retweets.

You are what you tweet. No, really.
Speaking of retweets…
You might have noticed fans are always asking celebrities for a retweet or mention. Being noticed can make anyone's day! So, even if you're not as famous as Perry or not famous at all, your followers will still appreciate a reply or retweet.
While at it…
… You\'ll be interested in knowing your tweets have a 12 times higher chance of being retweeted if you ask for it, and 23 times higher if you actually spell out the word 'retweet'!
Picture makes perfect
Celebrities are obsessed with themselves (occupational hazard), so they use every opportunity to post their photos. Well, guess what- Tweets with image links get twice the engagement rate.
So, there… wear your leopard print war paint and get your Roar on!
Book your Radarr demo today!