We all search for something on the Internet every day. According to Net Applications, nearly 87% of smartphones/tablets and 77% of desktops primarily search on Google. With thousands of topics trending each day, Google releases a global top ten trending searches list every year. The 2013 Year-End Zeitgeist from Google with the top ten globally trending searches includes:
Nelson Mandela
Paul Walker
iPhone 5s
Cory Monteith
Harlem Shake
Boston Marathon
Royal baby
Samsung Galaxy S4
PlayStation 4
North Korea
Here's a peek at Google's Zeitgeist video on its YouTube channel:
What the world talks about
It is not surprising that Nelson Mandela is the #1 trending search result this year. He has been the international icon for world peace and his demise this year inspired many people to learn about his legacy. The same goes for Paul Walker who cruised at the top trending searches after his passing on November 30th this year. In fact, the tweet confirming Walker's death on his official Twitter account was one of the most retweeted posts on Twitter this year. On similar lines, people mourned the loss of their beloved Glee star, Cory Monteith.
It is no wonder that the iPhone 5s, Samsung Galaxy S4, and PlayStation 4 made it to the top ten, considering that the world is completely gadget crazy looking to buy, review, or just read up on any new innovation from the revered brands. While the bombing at the Boston Marathon struck terror in everyone's hearts enough to look for any bit of information on the attack, it is no wonder that the curiosity about the arrival of the most awaited Royal Baby has catapulted the search result to Global #7.
The Harlem Shake did make it to the list as the dance went viral on YouTube just like Gangnam style last year spiking the interests of the audience who tried to figure out what was so special about the dance. At #10 North Korea stands boldly owing to the media escalation of the Korean crisis and surrounding nuclear threats.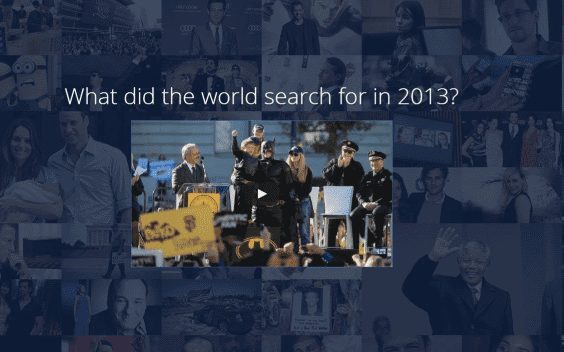 Like A Post, Like A Brand
Social media marketing in not just about pushing your own products and services. It is easy to pull customers towards your brand by creating content like social media posts or blog posts around the most trending topics. People often share information that they are most interested in. You can leverage this behavior to increase brand reach and visibility. It does not matter if you are a law firm or into fashion retail. You should always share others' content to attract a larger audience.
If everyone on Facebook is talking about Paul Walker today, post about him. This is a "bait" strategy that works in line with a "call to action" tactic. Suppose you post Paul Walker's photograph with his quote and say "Like if you are a Paul Walker fan", it would ensure that the post is liked by more users, and appear on their friends' newsfeeds, promoting your brand as well. You could also create a tribute video and post it on various social networks like YouTube, Vimeo, etc. Videos are more likely to go viral if you can create powerful content on a trending topic. Another method is to create a campaign around the topic in trend which is likely to be more successful and bring your brand much adoration in the eyes of users.
Content marketing using keyword optimization can help your articles appear in Google search results when a user searches for the most trending topics. In the current situation, a tribute piece to Nelson Mandela or an article speaking of Paul Walker's unforgettable sense of style would definitely get your page many hits. Keep yourself updated about the top trending searches. Even if your brand is not in that industry, it helps to distribute a couple of blog articles, social media posts and even PR revolving around these topics to turn heads towards you.
Embrace the trends
Google has a whole suite of search result analytics tools that you can use to find what people are searching for every day. Depending upon what is trending with respect to your brand/product/service, you can optimize content for social media or the website. This process comes under SEO (search engine optimization) and SMO (social media optimization). Here are a couple of ways to increase traffic towards your social media page:
Remember to include tags (hash or meta) in all your social media posts to ensure they pop up for relevant searches.
Share fun infographics about trends on Facebook/Pinterest to attract readers.
Be unique whenever possible with your social media posts. This allows your brand to have an identity.
Do not ramble. Content with most scannability is most shared.
Create videos/slideshows to explain anything in length and retain a user's attention while doing so.
Fun is good. Make your content colloquial and fun to engage the audience and increase brand reach.
Allot resources to conduct search keyword results so you can leverage the current trends to succeed in social media marketing.
Book your Radarr demo today!