Brands are on every social media platform imaginable to make their mark, fetching themselves some likes, getting pinned on boards or simply busy sharing an \'inside\' view of their workplace. However, getting the end user engaged requires a lot of efforts by brands and that can be done via photo and video contests. Analyzed below are examples of two popular brands that have successfully created contests to win over their audience and increase engagement.
Skittles: BFF Campaign
Skittles took to social media in 2009 and since creating their Facebook page, they have garnered over 26 million page likes. One of their tactics was to make their page fun and interactive through innovative videos to photo contests, creating an image of themselves as a \'living entity\' and \'not\' just a candy brand.

Placing 'Skittles' as a first person gets them all the attention they need!
Skittles launched a campaign called BFF (Best Fan Forever), early this year. It had fans from all over post a picture of themselves with Skittles on Facebook and be eligible to be featured as a BFF for the week. Pictures poured in thousands and it is still ongoing.

Ardent fans who were willing to go over that 'extra mile' to get a quirky comment from their favorite brand!
The Strategy
Online Engagement
Skittles BFF campaign created large levels of consumer engagement where customers not only posted pictures of themselves but made efforts to bring the brand in the larger picture. A free ad campaign by all means!
Cost Effectiveness
Of course, visuals are one of the primary modes of advertisements today and they sure do cost a lot but what Skittles did was extraordinary. It made people talk about it, for it! The campaign had the brand posed as the 'hero' in every entry for the BFF campaign.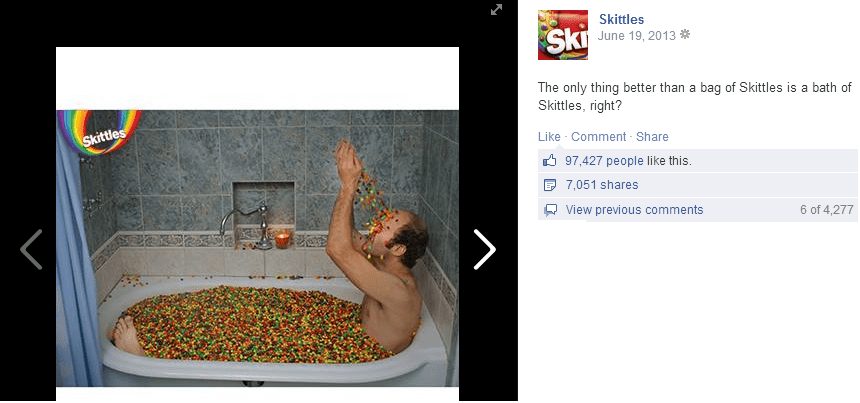 This would have needed a LOT of planning for that fan!
Creating Awareness
The competitive environment created in the minds of the users would only add to the establishment of the brand further, by word of mouth. Fans made efforts to indulge themselves into getting creative pictures made just to be a part of Skittles photo contest.
Vine Your Disney Side
Disney parks (Disneyland) launched a video contest called "Vine Your Disney Side" where fans were invited to send in creative videos that showed how Disney was a part of them – heart and soul! And yes, it worked crazy well. Their daily winners received $1000 and the grand prize winners won a trip to Disneyland along with a prize money of $10,000.
The Strategy
Brand Awareness
The contest made people remember the brand for its USP which is enlivening the child in you. People of all ages created and shared videos on Vine that had creativity at its best.
Media Hype
The hashtag #disneyside received all the media hype it could get and is popular all around the globe making this one of Disneyland\'s most popular campaigns.
Cost-Effectiveness
One of the most obvious features of creating a video or a photo contest is that you get all the advertising done – by the masses and for the masses – therefore almost zeroing in costs.
Increase Engagement
The #disneyside contest created increased engagement among the followers of the brand. It allowed interactions to grow within the brand and its user in a much more personal level.
Creating Photo And Video Contests
If you\'re thinking for a way to increase your online engagement with audiences, Circus Social's plug and play app will do the job for you. Creating photo and video contests allows users to create stories with their customers, thus increasing brand worth and reach. People love stories and get engaged by visuals and what better way than to make them the source of what they say and hear!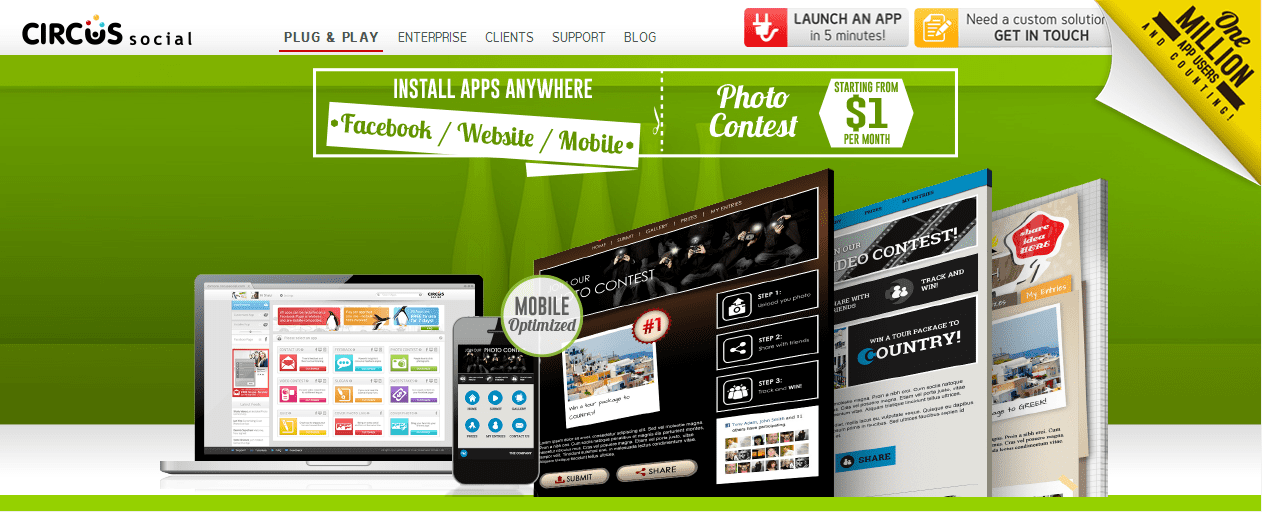 Plug and Play
The simple view dashboard provides a clean placement of all the apps offered by Radarr.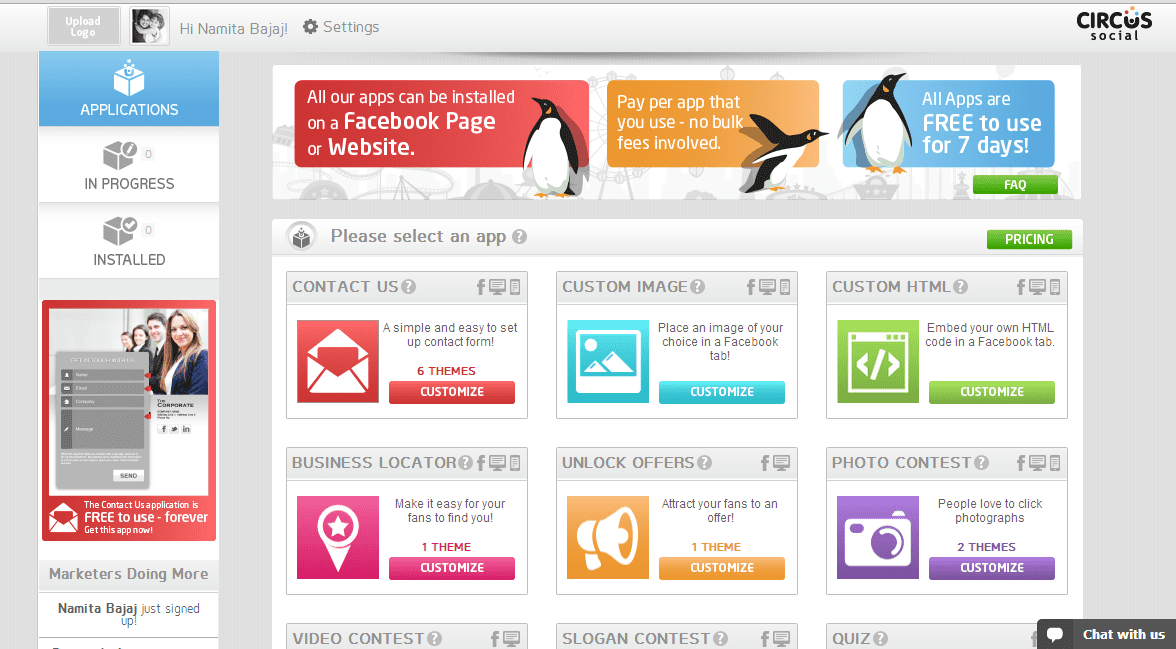 Simple view dashboard!
Customization
A simple click of a button and some standard information is all it takes to get through to your own personal photo or video contest. Select a theme and customize your contest based on information such as the name of the theme, the prizes, rules, and submission information. That and you are ready to go!
Online Engagement
Creating an impact in the minds of the consumer is what today's digital marketing environment is all about. With the help of subtle apps such as plug and play apps for your Facebook pages, it is simpler for the marketer to tap the segment they are eyeing on. Making a statement and creating stories via photo and video contests form the 'way' today!
Book your Radarr d
Book your Radarr demo today!