Learn how to use social listening in advertising.
Social media advertising has never been easy. From an ever increasing audience set to not being able to narrow down who to target, marketers and advertisers have always had to make tough decisions while allocating budgets for their paid and organic campaigns.
If statistics are to be believed, the ad spend on major digital advertising platforms has increased significantly – Facebook ad costs have increased by 89%, TikTok's CPM has increased by 92%, Instagram ad costs are up by 90% – and the report only goes on.
Considering not running ads is not an option, what can marketers and advertisers do to secure a promising ROAS from their campaigns?
Run more ads? Maybe.
Increase their spends to meet industry benchmarks? Maybe.
Get better at targeting? Most definitely.
But don't we already know our target audience?
Social listening in advertising
In the following sections, we are going to look into how marketers and advertisers typically target their audience, what is social listening and how to use listening insights to run high-converting ad campaigns.
Status quo of social media ad targeting
Based on the social media channels you choose to run ads on, you can typically target your audience on the basis of:
Age demographics
Location
Interests
Job title and job role
Gender
Relationship status
Educational status
While these options definitely help you narrow down a wide audience to a specific segment of your target audience, they actually lack the following aspects that play a key role in the purchase decisions we make:
Purchase patterns
Purchase preferences and motivations
Consumer sentiments
Ongoing conversations (where, when and how they seek recommendations from the internet)
And this is exactly why we are all experiencing a high ad spend and a much lower return on investment.
Over the last few years, consumers have increasingly become more aware of their needs, challenges and preferences. This translates to the fact that while impulse buys still happen, most choose to spend a considerable amount of time researching on their needs before committing to a product or service.
If statistics are to be believed, almost 65% of buying journeys now start from the search engine. Consumers are no longer just looking at the brand's websites, but also reviews, pros and cons, and comparisons available on other websites.
So how do you plug this opportunity gap in advertisement targeting?
How do you take into account such dynamic parameters and changing consumer needs to optimize ad campaigns?
Social listening.
What is social listening?
For those who are new to the term, social listening refers to the practice of tuning into online conversations for mentions of your brand, competitors, industry related news, relevant keywords, market trends and similar content. When listening, brands tune into conversations happening on various social media platforms, websites, online forums and communities.
Learn more about social listening here.
How can you use social listening in advertising?
The best social listening tools do more than just monitor online conversations around the defined topics. For instance, Radarr uses machine learning and artificial intelligence to deep dive into the conversations to uncover business critical insights that can help with running better advertising campaigns.
Here's how to use social media listening to optimize your ad campaigns for better engagement, results and return on ad spend:
1. Define your ideal customer persona better
Most brands start running ad campaigns on the basis of their target market definition. But image how many people would the following targeting include – New York, Age 25-45 years, male and female, interest in magazines and automobiles.
Even if you made a guess, the number would be nothing less than hundreds of thousands at the minimum.
If you're an automobile brand wanting to tap into an audience interested in cars and customizations, using that targeting essentially means broadcasting to a mass audience – even if you get 5 customer out of 1000, the return on your ad spend is next to nothing!
Using social listening, you can actually use the target market definition to further tune into what that audience is talking about. From the channels they make use of, the frequency at which they use them, the type of conversations they have and what they are talking about, social listening uncovers it all.
This helps you further improve the definition of your target audience and move towards defining your ideal customer persona – their sub-interests, goals and objectives, challenges, brands they are interacting with, and so on.
Imagine now running an ad campaign that targets New Yorkers in the age group of 25-45 years who are looking for solutions to increase their vehicle mileage. The relevance of your campaign is higher, leading to higher conversions.
2. Understand target audience sentiment
Apart from simply helping you narrow down your target audience, social listening can also help understand the sentiment behind the conversations they are having across different channels.
For example, when they are talking about seeking suggestions to improve vehicle mileage, are they just curious about it or are vehicles from a specific brand under-delivering and they are concerned about their purchase?
The ability to measure sentiment thereby gives you an opportunity to predict campaign outcomes and create resonating experiences through your campaigns. Imagine being able to hit the nail with an ad copy that speaks directly to an audience segment worried about mileage!
3. Create better ad copies
Continuing on our point above, social listening helps you tune into millions of conversations in real-time. Apart from monitoring what your target audience is talking about, it also helps you take note of the words, phrases, topics and themes your audience makes use of or talks about frequently.
This helps takes the guesswork out of ad copies and truly write in a language that your target audience understands. When it comes to keeping things simple to get your message across, this can be a game changer.
4. Create better ad visuals
Apart from ad copies, brands heavily invest in the media they use in their campaigns – this includes images and videos, both. But knowing which visual will meet both their brand requirements as well as audience interests, can be tough. This is exactly why advertisers tend to create at least 3 variations of a visual for their ad campaigns.
A good social listening tool like Radarr comes with image analytics. Image analytics has the capability to identify what type of visual cues including images, elements, pictures, videos or transitions used, does an audience respond to positively. This helps give a defined creative direction to advertisers for their campaigns.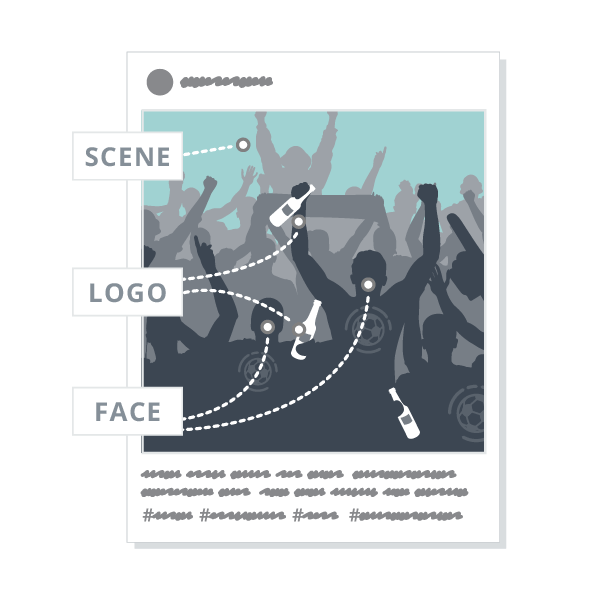 Learn more about image analytics here.
5. Respond to engagement on ad campaigns
It's not just the content on your social media posts that get comments or trigger a series of messages.
Ad campaigns on social media tend to get a lot of comments too – sometimes these comments are meaningful, sometimes they are spammy and at other times, they're piggybacking on your campaign to drive traffic to another website. Leaving these comments unresolved can result in lack of engagement from your target audience or even result in forming a negative opinion about your brand in the eyes of the right audience – like, what kind of brand would let a spammy comment like that just sit there?
A good social listening tool helps you stay on top of all the engagement your ad campaigns generate. For instance, you can keep track of all the comments on your ad campaigns on Radarr's Respond dashboard – you can then reply to, resolve or even delete comments from one place, ensuring your ad campaign drives a positive response.
6. Analyse ad campaign performance
Another way of using social listening in advertising is to measure campaign performance. A good social listening tool like Radarr comes with a powerful analytics dashboard that presents ad campaign performance on one dashboard. From audience reach, engagement, click through rates, overall sentiment, response to the return on ad spend across all platforms, the dashboard displays it all.
This helps advertisers get an overview of their ad spends around campaigns based on both targeting as well as the channels they are being run on. With data available so readily, this further helps them identify which channels work the best for driving specific outcomes and how they can further optimise them for better results.
Ready to optimise your social media ad campaigns?
Social listening uncovers untapped insights and data about your target audience. And that's exactly what advertisers need to narrow down their targeting, campaign concepts, budgets!
If you ask us, in times when every business out there is running ads on social media to put their best foot forward, social listening is what can help create high-impact campaigns that are not just designed for better engagement and conversions, but also – a positive brand impression, that goes a long way in lowering your ad spends.
Frequently asked questions about ad spends
What is a good ad spend?
There is no one-size-fits-all approach to running ad campaigns on social media. This means that the ad spends may vary based on business type, industry, ad strategy, and the resources available to them. But in general, you should aim at spending between 2-5% of your sales revenue on marketing and advertising.
What is ROAS and ROI?
Return on ad spend (ROAS) is a performance metric that measures the total revenue generated per advertising dollar spent. The ROAS is calculated by dividing the campaign revenue by the overall campaign cost. On the other hand, the return on investment (ROI), in the context of advertising, is the profit generated by the ads relative to the costs of the ads being run.
What is a good ROAS?
If your ROAS is at or is lower than 3, your social media ad campaigns are not profitable. Your ads are considered profitable only when your calculated ROAS is above 3. But it is important to note there that a good ROAS is subjective and depends on the industry you are in, your business goals and objectives and your ad campaign objectives.
What causes ROAS to drop?
The reasons for an ad campaign to stop performing can be different. But typically businesses start seeing a drop in ROAS when their campaign reaches target audience exhaustion.
How do you optimise for ROAS?
The only way to optimise your ad campaigns for better returns is to refine your targeting. This includes using insights from social listening and analytics to uncover their interests, intent, purchase patterns and preferences, and how they engage with brands. The better your ad campaign context, the higher will be the conversions.