Social media presence is not about posting and ghosting. If you really want to turn social media into a channel to reach your target audience and grow your business, you need to be as serious about the platforms as you are about tax audits. Yes, we're talking about social media audits. 
More often than not, social media marketers create monthly calendars to keep their profiles and pages alive. While they do include content based on thorough research, what a lot of them miss doing is an audit on what works and what doesn't – this includes the sentiment a post may generate, the type of images that do well, the formats of social media posts that the audience engages with the most and so on.
Simply put, a social media audit tells you more than just the reach of your efforts on a platform and your best performing posts, so you can double down on what works the best for your business.
In this article, we're going to deep dive into social media audits and how to conduct one. But we need you to remember that social media audits can look different for different businesses, based on their goals and objectives.
What is a social media audit?
A social media audit refers to the process of going through all your efforts on social platforms to assess if they have been contributing effectively to your business goals and objectives. It includes looking into the amount of effort and time invested on the social media platforms, evaluating their performance with the help of pre-defined KPIs and identifying opportunities to optimize them for better results.
In simpler terms, a social media audit is the process of analysis that highlights which social platforms work the best for your business, what type of content and campaigns resonate with and engage your audience, what you can do to make them better as compared to your competitors and similar accounts – removing all the guesswork from your social media marketing efforts.
Social media audits are typically conducted monthly, quarterly or yearly based on the focus a business has on the marketing tactic. They are like a reporting mechanism that comes added with actionable insights for the team.
What are the benefits of a social media audit?
It's easy to get diverted from your goal while posting every day on social media. From following trends to creating content that competitors might be, social media can become dynamic in no time. That's where a social media audit comes into the picture:
Find gaps in your social media strategy that could be dampening your reach and conversions
Identify opportunities to improve your social media content and campaigns – organic and paid
Identify your top performing social media channels
Identify your best-performing posts and weakest content types/ topics
Create new objectives for social media channels – engagement, follower count, target audience segments and similar
Set clear standards and measurable goals for the upcoming month/quarter
Keep teams aligned with social media campaigns – marketing, branding, sales and customer support
Monitor brand presence and conversations proactively to measure share of voice
Calculate the ROI of your social media efforts
Streamline and optimize resource allocation on social media channels
What should a social media audit include?
While there is no one set template for a social media audit, we do recommend including the following in yours – these may vary based on who your target audience is, the industry your business is in and what your business goals are.
Profile Information – your account username, URLs, and links posted on the account
Engagement rate – likes, comments, saves, shares, click-throughs, profile visits, reactions, and replies
Audience data – where they're from, when are the most active, gender ratio and other demographics
Publishing schedule – how often do you publish content on social media, changes in posting schedules
Referral traffic – which social media channels drive the most traffic to your website or the links promoted through them
Account-specific metrics – reach, virality rate, views, video completion rate
Audience sentiment – how your target audience perceives the brand on a social media channel and how they feel about your content
How to conduct a social media audit?
Conducting a social media audit can be overwhelming – especially if your business has a presence on more than two platforms. To streamline the efforts you put in, we've compiled a series of steps based on our experience and interviews with leading social media marketers – feel free to switch them up or change them based on your business goals.
1. Create a spreadsheet
A spreadsheet helps you write down all necessary data in a tabular format and is easy to analyze and compare over time. This spreadsheet should include separate tabs for each of the platforms you're present on, including all the profile information and the results over time – the metrics you map on each platform will be different.
Once you have your data neatly arranged in a spreadsheet, start looking for patterns and trends – weekly, bi-weekly, monthly, quarterly or at concrete intervals.
2. Conduct a competitor analysis
Competitor analysis teaches a lot about what works and what doesn't without having to implement it. Here's what you get after analyzing the social media accounts of your top competitors:
Performance benchmarks – the average number of likes, comments, and saves per post, average followers
Customer pain points
New content ideas
Heads up on what to avoid on social media – content with the most dislikes or negative comments
Make competitor analysis a part of your social media audit as it will give you a ballpark for comparisons and benchmarking. For instance, if you're just starting out, this can give you insights on what KPIs to set, what numbers to expect over a period of time or what type of content you should publish more. Or if you have been stagnating on social media, this analysis gives you a run down on what you need to do to move the needle.
3. Define the objectives of your social media strategy
You may have created a social media account for leads, but your objectives must be more specific. Not having clear social media goals is like shooting an arrow in the dark. You never know what you're aiming for.
Your strategy depends on your goals and it can be different for each goal. For example, if you want more sales, you need to find the bottom-of-the-funnel content and target people who're ready to buy. But if you want to increase brand awareness, you'll post more informative content and target new audiences.
Define clear objectives in the spreadsheet. Here are some examples of social media goals:
Increase brand awareness
Discover new audience insights
Generate more leads
Build an engaged community
Grow website traffic
Increase brand's reach
We recommend using the SMART goal-setting framework. This ensures that your social media goals remain streamlined and realistic, making them more achievable over a period of time.
4. Create a list of your social media profiles
We're all guilty of creating and forgetting about the number of accounts we make on social media. While channels like Facebook, Twitter, LinkedIn, Instagram and similar stay on top of our minds, smaller platforms that trend for a short period, often take a backseat. Even though teams don't actively use them, your presence on the platforms does get indexed by the search engines and contribute to your overall social media performance.
Create a list of all your social media accounts and take note of when you signed up on them. Also take notes on why you may have signed up on the account, the potential it has, the effort it will require for reviving the channel, what segment of your target audience is present on it and at what position does it fall in the order of priority to achieve your business goals and objectives.
5. Evaluate the consistency in branding
Consistent branding makes your company recognizable across all social media channels – this includes your tone of voice, type of content you post, color palette, and visual identity, amongst other parameters. It is what sets you apart from your competitors on the noisiest of channels.
When you use similar branding throughout your marketing channels, the audience recognizes you fast and trusts you more.
68% of respondents in Marq's brand consistency report said that brand consistency contributed 10-20% to their overall revenue. For instance, We make sure the colours and tonality used on our website are replicated across all our social media profiles for consistency: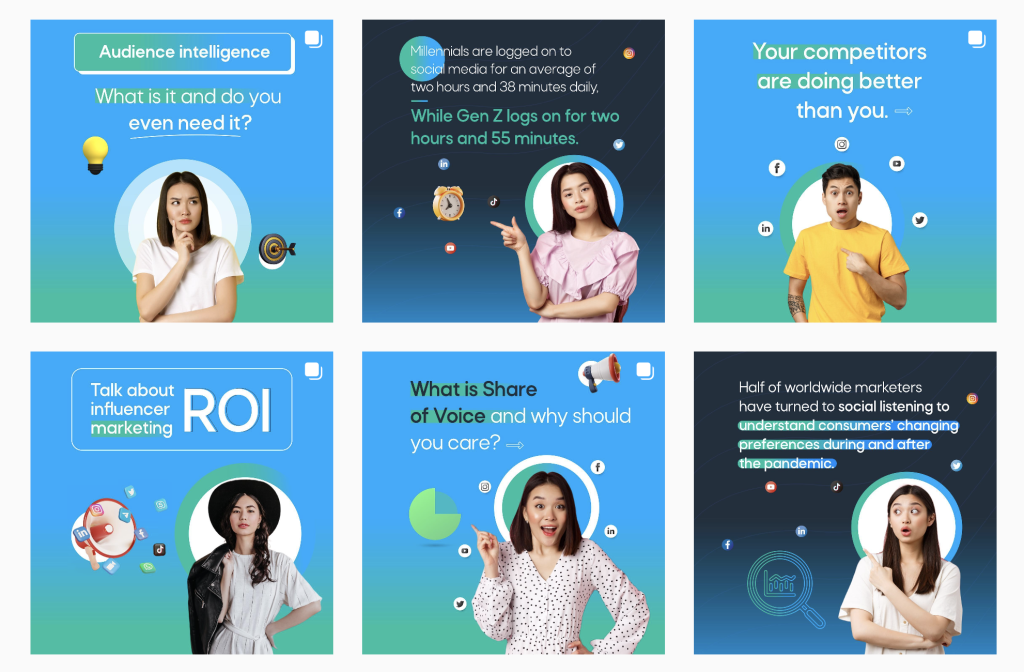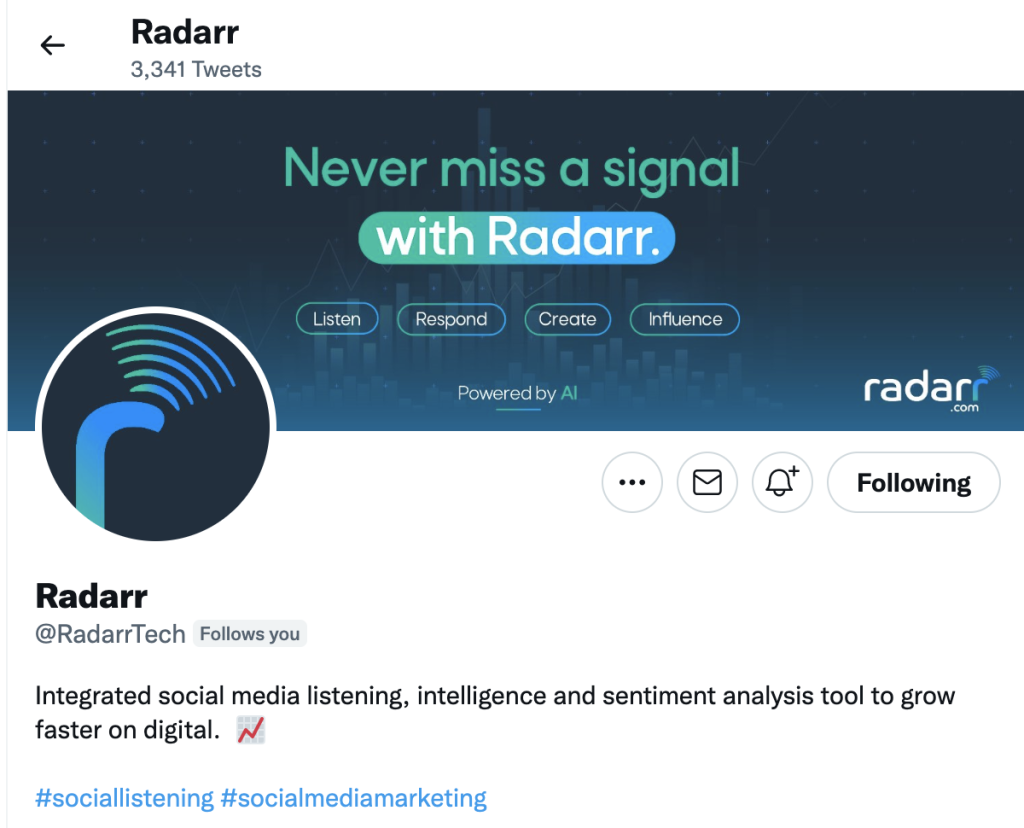 Here are tips to ensure consistent branding for your business on social media platforms:
Create a social media branding style guide: Include colours, fonts, logo, voice, and icons in your style guide. Use these in all social media graphics to maintain consistency. 
Create and communicate your brand value: Share your brand value as posts and stories, and tag people who are involved in the story to invoke a sense of community. You get more shares and mentions this way. 
Use social media templates: Templates help you stick to a format. It comes in handy when you're creating and scheduling posts in bulk. Create different templates for stories and posts – text or image-based. Add the core content to your pre-set template, and you're good to go. 
Repurpose Content: Repurpose valuable content to reach more audiences. For example, repurpose tweets into Instagram posts or newsletters with your branding style guide. Convert data points and statistics into infographics. Use tools like Mailchimp's creative assistant to automatically pick a logo, colors, and font from your website to create personalized infographics. 
Organize your visual assets in one place: Your media team will naturally avoid adding visuals. Store your logos, product images, infographics, and color palettes in one place. It can be a google drive folder or an asset management tool. Provide access to all your team members so they quickly pull out any visual element to use in a content piece. 
Pro tip: You can also use image analytics to audit which of your branded images drives the most active engagement and positive campaign performance. Read more about it here.
6. Identify relevant metrics
If you still think only follower count is the measure of your success on social media, it's time to rethink your KPIs. With algorithm changes across all key social media platforms, it is the interactions and audience engagement that counts the most. Here are some of the numbers we recommend adding to your social media audit metrics:
Engagement
Shares
Number of mentions
Impressions
Referral traffic
Click through rate
Reach
Measure these metrics in comparison to the previous month or quarter. If a metric has improved, find out which posts are responsible for the growth — repeat them. If a metric has declined, find out the gaps in your content — improve.
7. Evaluate your social media content
As per Hubspot's survey report, 45% of businesses post multiple times per week, and 23% of businesses post multiple times per day – that's a lot of content. Not all of it is relevant. Marketers publish some posts to maintain consistency; these posts don't necessarily contribute a lot to the account's progress.
The whole purpose of a social media audit is to analyze posts that resonate well with the audience. Look for:
The most popular authors
The most popular mentions
The post with maximum interactions
The best performing content format
The elements that make the content a success – tone of voice, image/ visuals, intent of the content
8. Conduct a sentiment analysis
Social media sentiment analysis or opinion mining tells you what people say about your brand online. A high number of mentions look good on the surface, but they cause a negative impression if people tag your brand in negative posts. It hampers your reputation and hurts your sales.
A sentiment analysis in social media audits helps you identify how your audience 'feels' about the content you publish or the campaigns you run – the underlying emotion that may or may not be visible through the number of comments or views on a post.
How to do a sentiment analysis?
Track your mentions with the help of social media monitoring
Monitor popular hashtags and keywords to analyze what your audience is talking about, where your brand is mentioned
Look for positive or negative words in the posts. Positive words include 'love', 'amazing', 'best' or 'perfect' and similar; while bad words may include 'bad', 'awful', 'terrible' or 'worst' and similar phrases
Now to ensure that your sentiment analysis is not based on personal opinions or assumptions, we recommend using a social media analytics tool like Radarr. With the help of AI and machine learning, Radarr is able to not just monitor online conversations related and relevant to your business (brand), but also present a thorough sentiment analysis on what your audience has to say about it. Learn more about it here.
9. Measure ROI of social media channels
Whether it's audits or strategies, you want results after putting in the effort. But measuring the ROI of social media channels is quite challenging. You can measure followers, engagement, or results of paid ads, but it's challenging to measure the increase or decrease in brand awareness or industry leadership.
First, let's understand the real -monetary- ROI of your social media channels:
Calculate the overall investment:
Tools – social media audit tools, social media intelligence tools, social media management tools
Ads – the cost of all paid ads you ran this quarter
Content – content outsourcing costs (payment to graphic designers, writers, editors, and content managers)
Time – determine hourly costs of your social media marketing efforts
Once you have all the data in place, calculate the social media ROI with this formula:
Profit/Total Investment * 100 = Social media ROI
When it comes to brand awareness, the ROI is based on relevant metrics. For example, to measure brand awareness, calculate the reach. If you conduct an influencer marketing campaign to increase brand awareness, monitor your views and followers before and after the campaign.
Divide the number of increased followers by the cost of hiring those influencers plus any overhead costs of the campaign. Suppose the cost is $2000, and the increase in followers was 10,000.
10000/2000 * 100 = 500%
500% result is a pretty good ROI. We've assumed the number here but use the same formula to calculate the ROI of your social media efforts.
10. Monitor your social media presence
The whole purpose of a social media audit is to optimize your account so that your target audience can easily find you. Your account should pop up whenever they search for an industry keyword.
Check your presence across all social media channels to ensure you're showing up for relevant keywords. Some channels, such as LinkedIn, use social media intelligence to share who's searching for you.
For other platforms, search keywords to see where you're ranking for them – the higher, the better. Jot down your rankings for all platforms and compare them over time. To understand how your audience looks for businesses such as yours, you can also use tools like Radarr for business intelligence and audience insights.
Ready to conduct a social media audit?
Keeping up with different marketing tactics and maintaining a presence on social media can be a very daunting task. That's why most marketers shy away from really conducting a social media audit.
But if you ask us, a social media audit is what your business needs to streamline the amount of effort and resources you invest into a channel and optimize them for maximum returns.
This is where we're seeing social media marketers and managers leverage analytics tools like Radarr for social listening, monitoring, sentiment analysis and KPI tracking. With all the insights on one dashboard, it makes it much easier for them to conduct a social media audit and pay attention to numbers that truly matter.
Want to see how we're enabling social media audits and making them more effective?