There's no time like Oscar-time to newsjack! Sure, last year was a little embarrassing, with most brands doing it all wrong and tweeting inanities of all kind just to have in on the golden buzz. But, there's no reason one shouldn't feel optimistic this time around! After all, with one full year of practice behind them, brands are probably better geared to ride the Oscars wave to market their products.
So, with the Academy Awards just a little more than a month away, if you are a social marketer, you'd do well to equip yourself with the right strategy to make your brand's presence felt on the big day and in the lead up to it. Get ready to newsjack the Oscars!
For the uninitiated, newsjacking is the art of piggybacking on current events and incorporating them into the marketing plan to leverage your brand's popularity. Real-time marketing at its best. It is not a new trend, but has become essential to social marketing in an age when new stories get buried in no time. It's a great way to drive traffic to your content by engaging people in different ways.
And, the Oscars are the perfect time to let the newsjack out of the box, and create running dialogue between viewers, celebrities and you, in a flurry of live tweets and posts. Brands such as Visa, JC Penny, Heinz, Special K, Stella Artois, Skinny Cow, Twix, Sprint, Starbucks, Oreo and Oscar Mayer achieved varied degrees of success with this approach, last year. And, this year, you can be part of the action too.
— The Academy (@TheAcademy) January 23, 2014
But, here's a word of caution. Newsjacking can easily make you look like you are doing it just for the sake of it, without having anything to really say. So, what do you need to keep in mind, when newsjacking?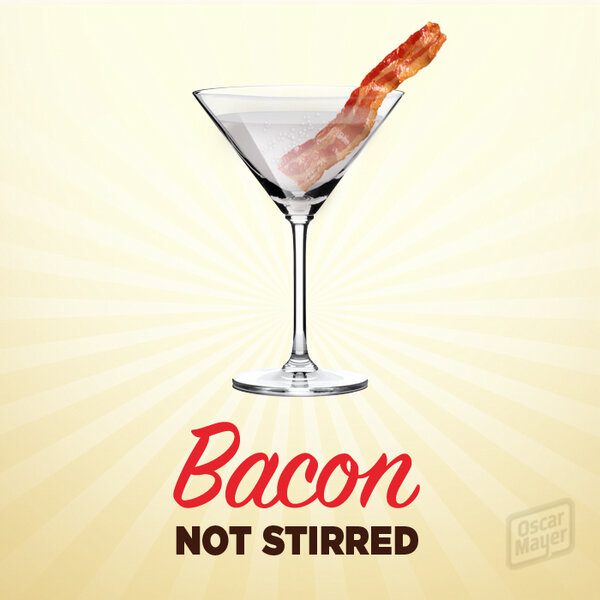 Oscar Mayer's Take on Skyfall Last Year
Keep your eyes peeled for surprises
Always be prepared for small, unexpected moments. They are the usually the ones that go super viral. And there's no reason you shouldn't cash in on them. For example, the best social media moments took place when the lights infamously went off at the Super Bowl last year. Brands like Oreo used the incident to tweet their way to viral success.
Stay clear of controversy
Unless your brand is known to thrive in hot water. Use wit and be clever with your posts. Go with instinct; if you think something is going to rub someone the wrong way, best to stay away from it. But don't be bland and boring. No one will bother reading you. Show some attitude. Last year, The Guardian's live blog took a gamble with its criticism of Amy Adam's 'ridiculous', 'blah' dress, but it paid off, because people connected to it. Oh, and don't copy. That would make no sense. Your post needs to fit your brand image. For this, you need to strategise beforehand and decide what kind of a presence you want to create on the big day.
Do some preparation
The list of nominees is out, and luckily for you, the Oscars have been pushed to March 2 because of the Winter Olympics. With so much time on your hands, there's absolutely no excuse for you not to be fully prepared. Draw up a list of ideas in the eventuality of different movies and persons winning the various awards. What would you tweet if Leonardo DeCaprio won the Best Actor award; what if the underdog beats him to it? Not all of us think on our feet. So, do your homework, and possibly even schedule a succession of tweets for different eventualities. Speaking of preparation, ample staffing… you'll need it.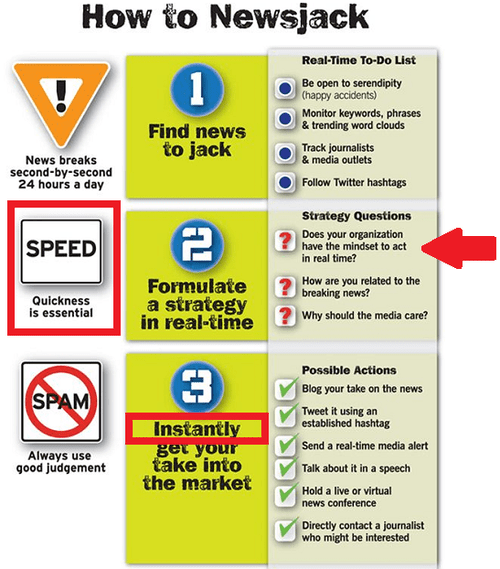 The quicker takes it all…
Newsjacking pretty much rides on right-here-right-now, as it has a shelf life of, sometimes, just a few seconds. Your reaction to any given incident needs to be immediate, especially when something dramatic happens. Because, that's when people reach for their computers and handheld devices. You need to be there to take part in the conversation. And you need to put out interesting stuff, to really make an impression. Thumb rule: say it fast or don't say it all. No pressure. Haha, kidding.
Keep it interactive, but relevant
Yeah, it's social media and whatever you put out there is going to be interactive, right? Wrong. Keep readers engaged by asking questions, taking polls, etc. Make them feel like their opinion matters. You'll find topics aplenty to chatter away on; don't worry.
Want to say congrats to @JonahHill and @McConaughey on their well-deserved Oscars nominations!

— Channing Tatum (@channingtatum) January 16, 2014
While at it, think of ways to connect your brand to the Oscar buzz. Colgate Optic White hit gold with its posts about the beautiful smiles of various actresses, with the hashtag #brilliantsmile. Pantene opted for the #WantThatHair hashtag, focusing on the best coiffures. Samsung Mobile had a Promoted Trend to show off its product's sketch features, by showing users' sketches of Oscar dresses.
What tips do you have for those looking to newsjack the Oscar this year?
Book your Radarr demo today!