When we speak of newsletters, we know that they are going to provide us with some really interesting information on the topic of our interests. As a content marketer, to create an effective e-newsletter is of prime importance for us. The initial days of publication and sending leaflets are outdated with everything available on the web. I've gathered four amazing web based newsletter tools that can come to your rescue in the plight of creating and effectively placing your personalized newsletters.
Mailigen claims that they are on a mission to make marketing software easy to use. Their drag and drop email template editor allows you to create and send newsletters with set design templates which can be customized easily. It gives you a constant full view of the toolbar whenever you are editing in an email. It makes use of the drag and drop feature to add images and change styles or blocks in the writing styles and inserting columns. It also allows you to provide social networking buttons such as Facebook, Twitter, etc, which makes is more likely for your subscribers to share your campaigns with others.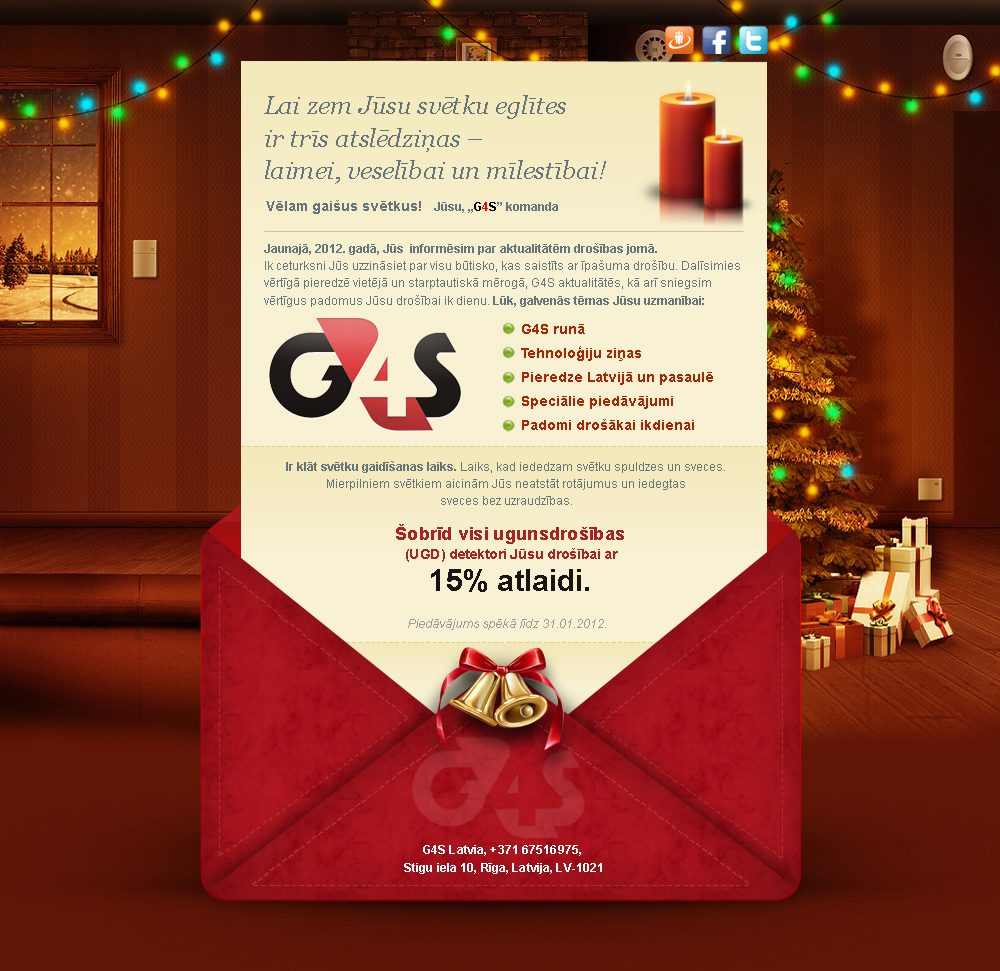 Easy drag and drop template editor makes it easy to create and share newsletters!
Key Features:
Create newsletters, surveys, signup forms and more.
Provide social networking buttons for further reach.
Generate real time performance reports.
Integrated with Google Analytics.
More than 130 templates to choose from.
Create auto-responders – Every time you get a new subscriber, Mailigen will send an automated newsletter programmed by you to the recipient.
2. LetterPop
LetterPop has the amazing ability to make creation of a newsletter as enjoyable as it is easy to create them. Attach images with the drag and drop feature and upload new ones at the click of a button. Choose from more than 300 templates and work your way into the world of creativity with what looks best to your eyes. With individual plans ranging from $4.95 per annum to Business Plans starting from $48.98 monthly, users have a variety of options to choose from.

More than 300 exciting templates to choose from!
Key Features:
Templates that can be chosen with the drag and drop feature where content and images can be personalized.
Faster editing options.
Upload pictures from your Flickr and Facebook accounts as well.
Ability to bulk import contacts from gmail accounts.
Publish it or keep it private. Share it on your social accounts effortlessly.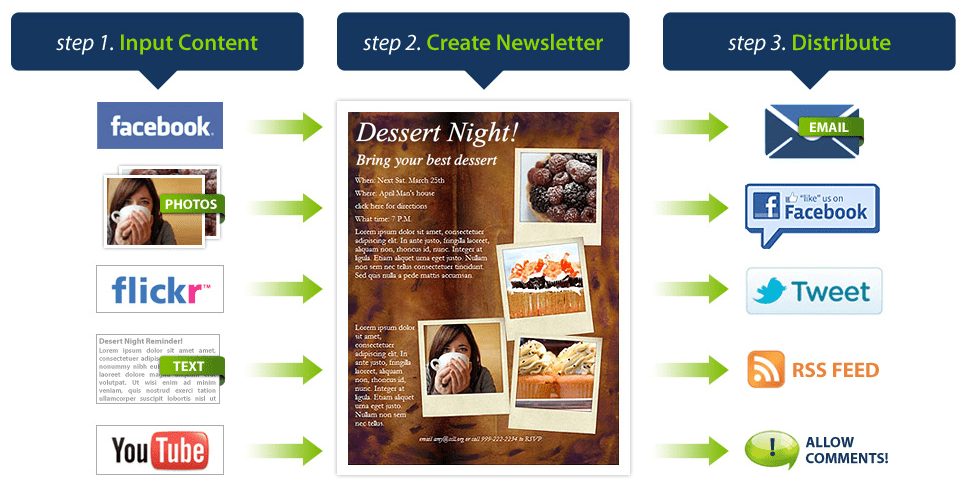 As simple as THAT!
MadMimi is one of the easiest way to create, share, send and track email newsletters online. Free of cost, the tool supports easy integration and helps create professional looking, impressive newsletter.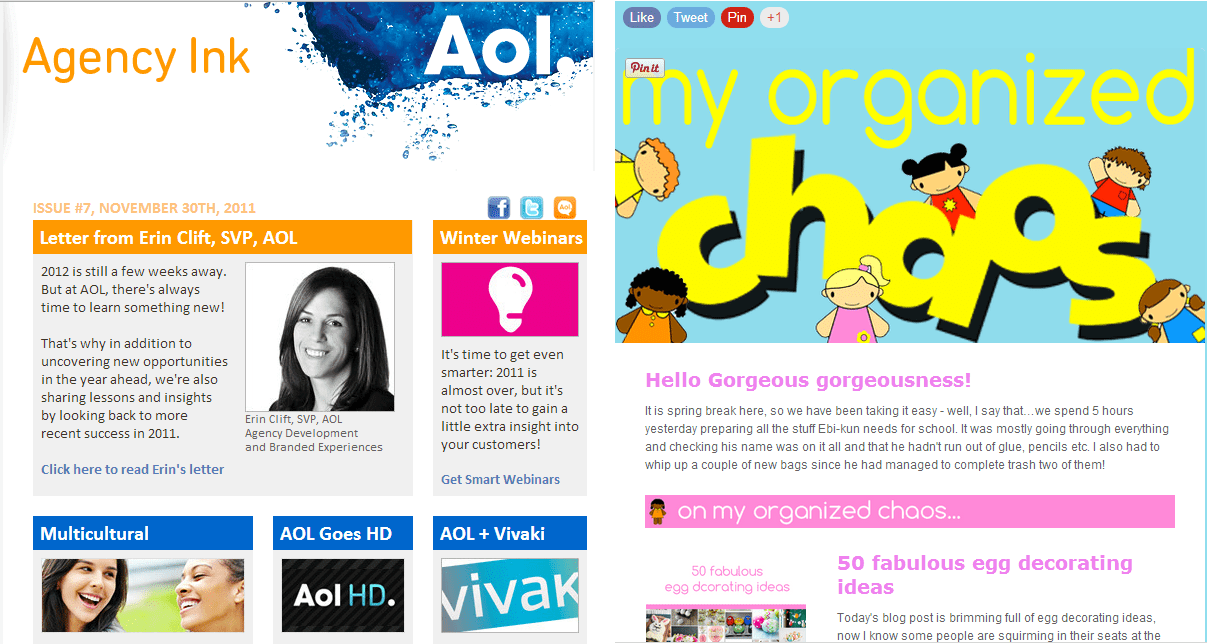 Newsletters created at MadMimi
Key Features:
Provides a user friendly interface and thoughtful theme design approach to create great design templates.
With themes and modules, it provides a streamlined approach for its users and helps them use only what they need.
Themes created can be saved and cloned thus eliminating work repetition.
The ability to create themes or choose from among the 35 theme templates.
Social networking buttons can be inserted.
Emails can be scheduled.
HTML tags can be added for customization.
Lists and contacts can be exported and imported.
MailChimp allows you to design email newsletters of your choice, design your own logo and pictures making them look different and identifiable by your customers. The free edition supports 1000 subscribers and more than 5000 emails can be sent in a month. Emails can also be created using HTML tags making them look as professional as you want them to. It provides professional header graphics and color pallets to customize your news letter. Like other tools, MailChimp also provides a detailed report regarding the emails sent.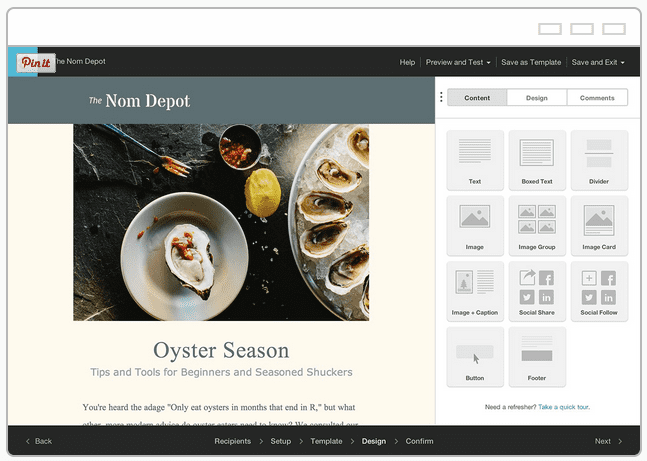 Key Features:
With subscriber profiles, users can keep their contacts in one place and get detailed insights about individual engagement and website activity.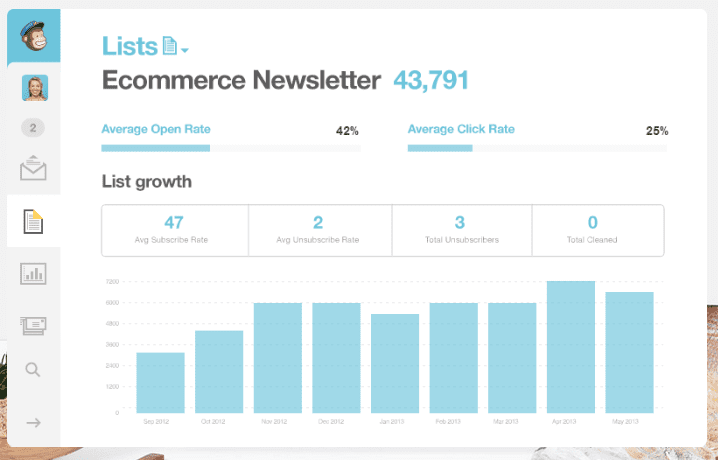 Stay Updated!
Add notes either on one-to-one conversation either on desktop or on mobile, thereby knowing who your real customers are.
MailChimp has a suit of mobile apps that help in being able to make and send posts on the go.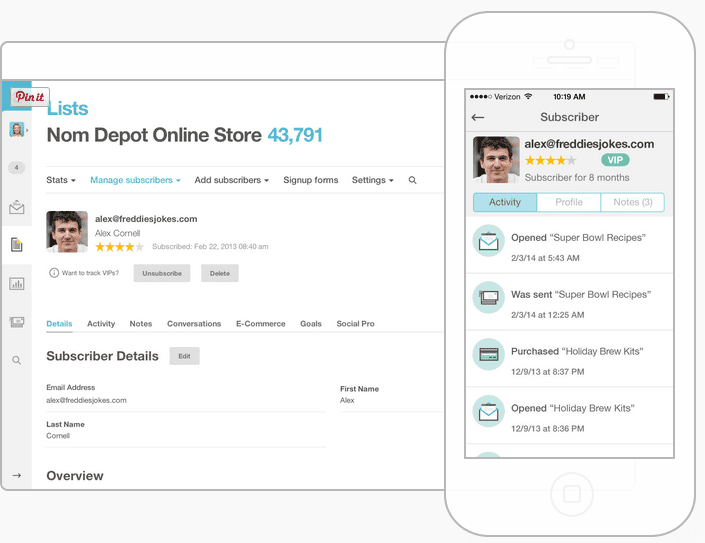 Make an impact – ON THE GO!
Generate automated triggered emails based on subscriber activity.
With With Twitter Tailored Audiences, you can target your subscribers on Twitter and make it easy for them to share your content with other people who have similar interests.
Email designer helps add and collaborate campaigns that fit your brand interests.
Personalized templates can also be built.
MailChimp is integrated with hundreds of apps like Shopify, Eventbrite, Google, Facebook, Twitter, etc.
There are many aspects that are considered while choosing an effective platform for creating and establishing a newsletter tool. Some may want a variety of design templates such as those offered at LetterPop or some may prefer effective integration on the go such as that provided by MailChimp. All said and done, these are the four most effective tools that can help you achieve professional-looking email newsletters that can be easily created and shared. They also provide you with suitable followup and generate reports that will allow you to stay updated with your user base and increase your reach.
Radarr is the best social listening tool. Book A Radarr Demo,today!