Are you someone who suffers from a News Feed filled with Bitstrips? You might just have to deal with another craze – Flipagram is set to rule Facebook! The latest to top charts in the App Store, it is easily available to iPhone and Android users for FREE.
This isn't just another form of Instagram. Flipagram enables you to make short "video stories" – image slideshows with background music of your choice. The video lengths can vary from anything between 15 to 30 seconds and you can pull in photos from all possible platforms. Talk about reel life becoming more real.
And if creating your very own musical saga was not enough, the app lets you integrate your social profiles to share your creation (and go 'viral' maybe?). In a generation that is so obsessed with taking pictures of almost everything they come across, selfies topping the list; it isn't hard to understand why this app is such a hit!
Here\'s a quick look at how Flipagram was utilized by a restaurant:
Just a quick walk through how to go about creating an authentic clip:
Log in to the app and go to the main menu, select pictures you wish to make a video of. The app lets you choose from pictures on Facebook, Instagram and of course, your phone.
The next step lets you crop, move and scale to size the pictures you have selected. Then, it lets you decide the order you want to see the pictures in (slideshow).
Once you are through with creating the slideshow, the next step lets you choose the length of your video – 15 to 30 seconds. Here, you also get to add a catchy title and a watermark to claim your territory (I mean, video).
The next screen lets you choose background music and adjust timing. Music can either come from your library or Flipagram's library.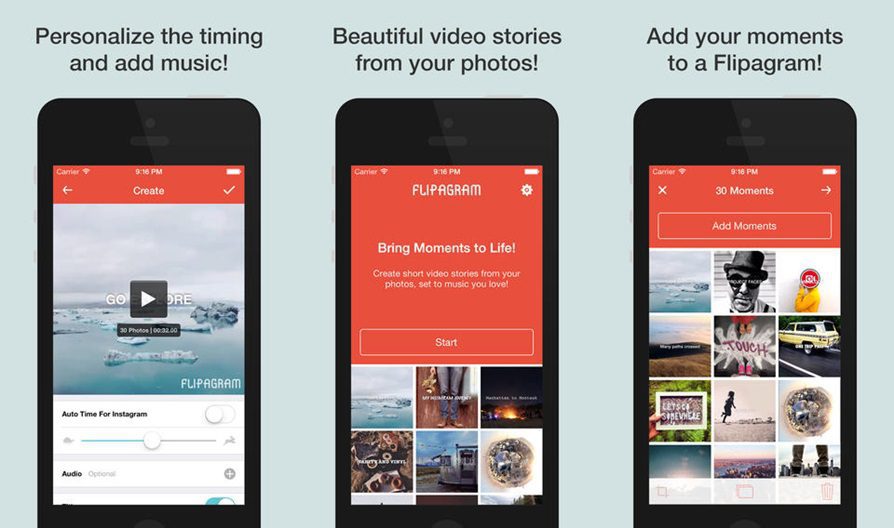 Features Of Flipagram.
And, voila! You are done.
As easy as may this sound, marketers are going to have to work a tad more to establish their brands on this platform. Considering storytelling is currently trending the marketing domain, the best use of this platform lies in creating musical sagas just like its users.
A brand cannot just showcase their products and have 'I love shopping' running in the background to nudge their viewers to buy. That is going to seem cliché.
So, don't flip out over Flipagram and take some of these ideas into account while marketing your brand on it:
Premier your product.  Capture behind the scenes moments of your product manufacture and add custom music to make a perfect free of charge social media commercial.
Highlights in the Limelight. Compile moments from trade shows, conferences and other events to establish your brand image (It isn't always about marketing products).
Strut Your Stuff (Testimonials). Whenever you please a client, you create a unique success story and it deserves the limelight.
Peek-a-boo. Everyone loves an inside story. Gossiping is second nature to all and word of mouth is exactly what you need! (FYI: I don't mean dragging down other company's image) Create short documentaries or a series of short videos with photos of your staff, fan following and how you manage to please them 'always.'
Reward Loyalism. Don't just always focus on selling your products; you can always have some give away contests once in a while to keep your audience engaged.
Time to flip marketing strategies for Flipagram!
Book your Radarr demo today!