Company: Keyhole
About: Keyhole is a real-time social conversation tracker for some of the most popular social media platforms like Twitter, Facebook, and Instagram.
Usage: This tool can be used by marketers to create effective content marketing strategies as it lets them focus on relevant keywords as well as stories trending in their audience's circles to keep up with their interests.
Highlight: Keyhole offers a feature that gives you insights on what your brand's target audience is talking about, what you need to talk about on your social profiles and which keyword is the most effective at that time.
What is Influencer Marketing?
Influencer marketing involves brands partnering with the top bloggers (read: social media influencers) in their fields to create more engaging and authentic content. This content is then shared in the influencer's circles, promoting the brand\'s products and services without seeming too focussed on sales.
In simpler words, it's promotion through word of mouth.
Influencer marketing has become one of the most powerful tools to get a brand's message to the relevant audience in an authentic manner. Be it the promotion of a new product or an event to raise brand awareness, it's a tried and tested way of driving in maximum engagement (from quality traffic).
Today, you see many brands like even Disney and LEGO successfully incorporating blogger promotions in their marketing strategies. And well, they have been doing it for a reason. That being, content. With content marketing on the rise, brands might run of ideas to create posts but these bloggers (read: influencers) are always going to come up with content that's not just real, but authentic and unique.
What is Keyhole?
Keyhole is a real-time social conversation tracker for some of the most popular social media platforms like Twitter, Facebook and Instagram. For marketers, these are those platforms that are the hardest to keep track of trending topics on.
The tool lets you not just track the hashtags that are trending in your industry, but also helps you identify influencers who can promote your brand in relevant circles. Keyhole is a successful social media tool being used by the likes of Ogilvy, Uniqlo, and TC Transcontinental.
Key Features of Keyhole
Keyhole has some unique features to offer to its users, here's a list of them and how to use them effectively:
1. Hashtag Tracking

Every hashtag you see your audience using during conversations has a life span and it isn't too long. The trending hashtags change from time to time and it becomes hard to keep a tab on them. What you can expect from this hashtag tracker:
User-friendly interface where you choose what you're searching and which platforms you want to focus on
Your data is presented in graphs that are easy to interpret
The interactive dashboard allows you to pick which posts are more relevant to you
To give this tool a shot, we chose the keyword "content marketing" for the social platform, "Twitter" and this is what our dashboard look like: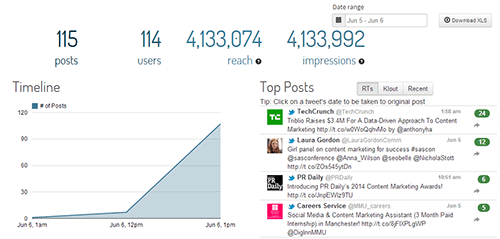 The dashboard also includes a list of the most influential Twitter users talking about the keyword you specify and a list of the brands that are in competition with yours.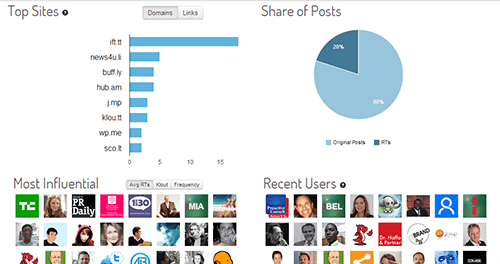 If you scroll down further, the dashboard gives you statistics on where your maximum traction is from – the location and the gender of the audience that is interested in the keyword you're focusing on.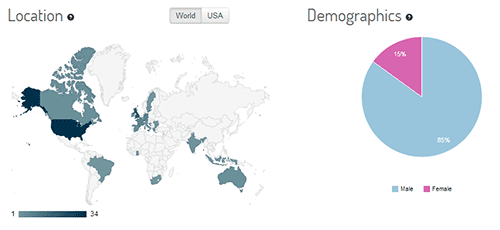 The dashboard also includes topics related to your keyword that are currently trending in your circles and where the content is being sourced from. This allows you to touch upon a range of topics that lets you cater to the different interests of your audience.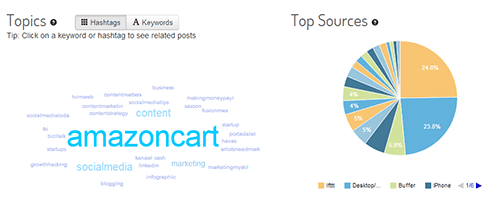 2. Influencer Marketing
This feature eradicates the process of finding and then pursuing influencers who could promote your brand in relevant circles by using real time data to give you information on:
People receiving high engagement on specific topics.
People with high affinity towards your competitors.
People leading the conversations at the top notch industry events.
All the above is accomplished by this three step process:

Topical Search. Enter the topics, company names or hashtags relevant to your brand that influencers could be talking about.
Filter and Sort. The tool gives you statistical data on the trending topics, their reach, engagement, influencers and their bio. The interactive dashboard lets you pick which data is more relevant to you so that you can filter and sort accordingly.
Drilling Down. The dashboard gives you a vast arena full of conversations to explore. Start reading up the conversations that have led to maximum engagement and see which one your brand could contribute to.
3. Newsroom Intelligence

This feature can let you focus on more than just the keyword you choose, it primarily gives you an idea of what to talk about in which circles.
91% of your target audience engages in conversations apart from those related to you. This feature gives you an insight into what's trending in your audience's circles so that you can offer content on diversified topics and draw in more engagement on your fan pages.
Whether you are into media or are a publishing house, Keyhole offers you a dashboard full of stories that your readers are engaging with in real-time, so that you don't lose out on your audience's interest.
Alternatives
If this tool doesn't suit your needs, you can use Social listening tool  for identifying influencers and also to create an effective content strategy.
Book your Radarr demo today!