If you think established brands can't go wrong with their marketing strategies, I suggest you take a look at McDonald\'s UK Facebook page. You'll eat your words – really quick. When it comes to social media marketing, keeping up with trends is a task in itself and even the best of the best falter.
Riding high on brand success isn't a bad thing, but taking it for granted in terms of content marketing on social platforms, sure is! Strutting your stuff has always been the idea behind fan pages, but 'only' showing off what people already know you for is BORING! In that very 'capital – bold' manner.
Even though McDonald's set a bad example in terms of keeping up with their brand success on social platforms with images of food plastered all over their wall, there are brands like Intel that can wake up that creative side of yours and put it to work.
A page that welcomes you with a tag line "Inspired Innovation That's Changing The World" already sets some expectations at the back of your head. And trust me; they keep up to all your expectations – the smallest of the smallest and the biggest of the biggest. They could easily change their tag line to "Inspired Content That's Changing The World" (the marketing world, I mean)!
Intel and chip fabrication are synonymous now. So, what kind of audience do you think this brand's content would click with? Techies? Guys that solder their motherboards and computers together in the hopes to build their own personal mainframe? Not at all.
From what I can see on their page, they have content that caters to an audience of 13 year olds who are just getting into technology and exploring it, or for 50 year veterans in the game looking for deeper insight into the technology that Intel is investing in.
If you think this 'diversified' audience is just a bunch of loyalists, you are wrong. Most of them might not even be using Intel products (those that I am not even aware of). That whole lot of gathering on their page is drawn in by their amazingly engaging content. Even people as finicky as me landed up browsing through their 'entire' album just to see 'what next'! That's called keeping your audience hooked.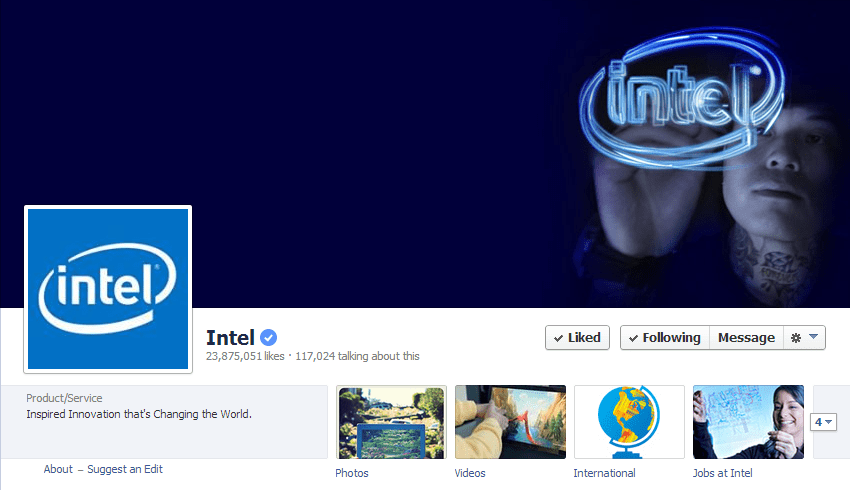 While I was browsing through their content, I came across some awesome categories, perhaps your brand can take a cue or two from these:
The Dictionary Craze. They have their very own version of an urban dictionary #shouldbeaword offering not just technical terms in a cool way, but a lot many words that they have come up with themselves. And mind you, these tech freaks have created some really cool non-tech terms!
The Storytelling Techies. If you thought the life of a techie revolves around his gadgets and all things metal, you were right. But if you thought that they did be boring at storytelling, you are wrong. The company not just created a picture story, but made sure they didn't have to use anything more than one of their products. 'A Day In The Life Of An Ultrabook' series is definitely one of the coolest way to promote an Ultrabook, without seeming too desperate!
As A Matter Of FACT. Facts are always presented in the most boring way to reinforce the fact that they can't be altered. Looks like Intel took a clue from the dead beat responses and perked up their periodic factual posts with interesting images and less text heavy content.
Infographic-mania. We have all been hearing this for some time now. Infographics are so 'in' and why wouldn't they be? They are easier on the brain and a great change from the usual text heavy content that you need to focus so much on while reading! Intel unlike other brands, came up with shorter infographics of their products – from how flexible they are to how they can be used. With a periodic process infographics, they have their viewers hooked on to this one.
Artistic Ideas. Most brands stick to maintaining a cover picture of one of their products or a collage of a few. Intel stands out even here, with a periodic change in their cover picture with their SciArt Series – artistic depictions of technology. Not just does this make them unique, but engages the audience and nudges them to interact with the page.
Le Videos. They have come up with not just promotional videos, but the kind of videos that coax you into buying. From the know-hows to sneak peeks to roping in star power, they covered nearly every possible dimension of promotion.
Eventful Tactics. If you thought these geeks were too engrossed in their chip fabrication to have time for issues concerning the world, you are wrong 'again.' Intel has been coming up with events every now and then, the latest one being to support girl education.
There may be a lot many categories you might feel I have missed out on, but believe me it's for you to experience this page.
Their social profiles don't just show consistency but speak of the hard work they have put in to create content that totally revamps their image in the eyes of the visitor. From geeks to freaks in 10 seconds (of course, in a good way).
Like bad examples teach you a lesson, the good ones reinforce things that you have 'just' been hearing:
Content Still Rules. Brands just have to come up with unique and relevant content depending upon their nature to be able to run a fan page on Facebook. After all, who spends time on an empty book?
Different Strokes For Different Folks. Offer diverse topics in your content. The more you hover about the same category, the more stereotyped you are.
Image Mania. Stock up on lots and lots of images that talk about things related to your products and not just directly about your products. Else, it smells of 'sales.'
Infographics Are Still 'IN.' Pages with more infographics and less text heavy content automatically attract a lot of attention. Who doesn't like something pleasing to the eye and easy to the brain?
Storytelling Is The New Black. A series of images or short documentaries revolving around your products, subtle and not in your face certainly boosts interaction.
Don't Be Selfish. It isn't just about you and your brand's product sales; it is also about customer experience. Provide them a platform to state their issues and make them feel 'at home.'
Less Is More. Don't go ballistic posting images, infographics, events, etc. Be consistent but make sure you don't seem too pushy.
Don't forget to check out their page; it's tech at its best!
Book your Radarr demo today!