We have been discussing content forever now! While it has been hailed as the king, the queen and whatnot, it is surprising that not much is said about its creators – the content marketers and the challenges faced by them.
While we cannot deny the importance of content marketing (and that it is here to stay), the job of a content marketer has become highly challenging and demanding. With a very fine line between the job profiles, a lot of us (read: social media managers) deal with this role reversal each day. Apart from being responsible for maintaining a highly engaging brand identity, we are also entrusted to roll out exciting content even quickly, each day every day!
We at Beta21 love to share firsthand experiences and for this story, we got in touch with Serena Mariani, who shared with us interesting insights on how to battle this aspect. Serena is an award-winning, social media marketer and a digital project manager based in London. A citizen of the Internet since 1992, Serena received the Mark Hanson Award 2012 as "Best Social Media Communicator under 30". In 6 years of agency and in-house experience, she has been part of teams helping brands like Max Factor, Subway, and Vanish to successfully transition to the era of content marketing and social media. We tossed the following question to Serena and this is what she had to say:
Brands are trying to churn out a greater amount of content for their audience today. Is this tactic really helpful to brands to gain the reach they are looking for?
There are different aspects to this issue, so let me articulate with different examples. Content marketing is an area in which the "less is more" rule does not necessarily apply – in fact, maintaining an adequate output of content is generally rewarded in SEO terms (search engines love fresh content) and can help keep the brand top of mind for your customers/consumers. An example: an informative weekly blog post providing your B2B clients with valuable industry information they\'d take much more time to gather and digest; or a daily useful tip on your Facebook page – these are good examples of "more is more".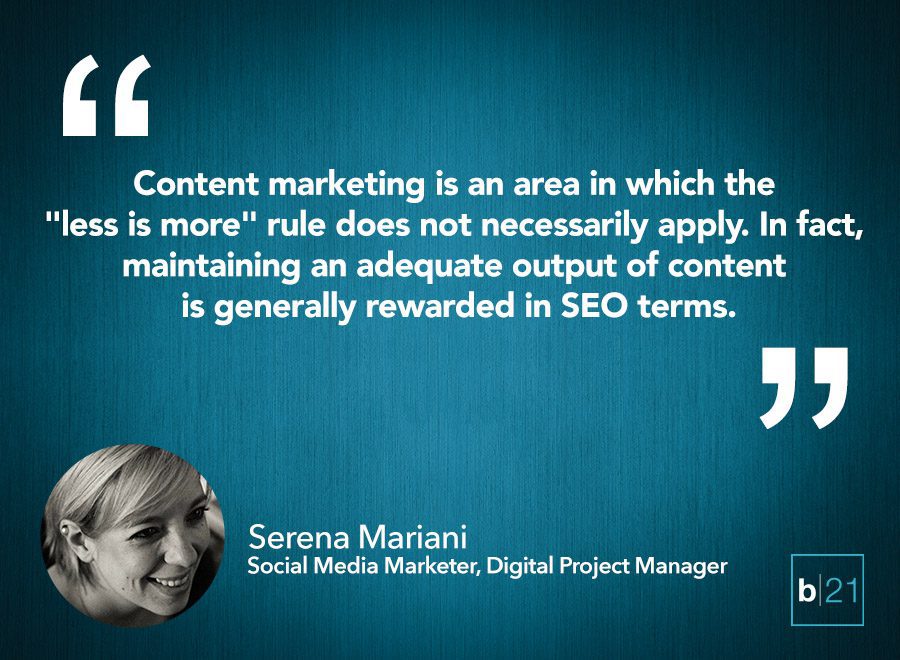 However, the temptation to churn out generic content that does not add any value for your customers just for the sake of it hoping to generate "more views" has to be resisted. The risk is to alienate your audience and ultimately lose relevance in an overcrowded, noisy media environment – it happened with traditional advertising and it could happen quickly to relatively new marketing tools. I recently wrote about how the decline in organic Facebook reach is paradoxically a good thing for (better) content marketing. In short – if what you are going to publish is just "filler" content, think again – lose it, or even better, think of what could make it better. No one likes to see their Facebook feed (or inbox) full of "Happy Friday!" silly posts, and the "Mute/Unsubscribe" button is always just a click away.
What is the content marketing strategy taken by you for your clients in relation to the above-mentioned issue?
When working with clients on their content marketing strategy, I try and adopt a fully customized approach, adapted to the specific brand and area of operations. This also applies to volume and frequency of the content output. In short, you have to choose what is best for your specific brand. Sometimes, especially in niche, technical industries, less is really more – a small quantity of long form, high-quality content pieces (for examples, white papers or sector studies) can be more effective than a daily presence over a number of social media.
What are the challenges faced by you as a Content Marketer (on a constant basis) and what are the steps taken to overcome them?
With a new social network or platform coming up almost every day, I would say that the
#1 challenge
for a content marketer today is to make tough, but necessary strategic choices. New platforms (or new tools inside old platforms: for instance, Instagram introducing videos) pose as much of an opportunity as they represent a challenge.
A few questions to ask before jumping into another arena – Which channels are the most relevant (in terms of demographics, reach, potential) for my brand/client and for its specific objectives? Is my content plan sustainable with the current resources if I stretch it over more channels? Will the results be measurable and relevant?
This brings us to challenge #2 – proving the ROI of Content Marketing for your company/brand. The way to overcome this is simple – just remember content marketing IS marketing. A robust content plan is not a series of topics and formats: it starts from the objectives that the brand wants to achieve and draws a path to achieving them, and includes clear KPIs for performance analysis. "Increasing newsletter sign up by 15% in 6 months" is an objective – "publishing three blog posts weekly" is not.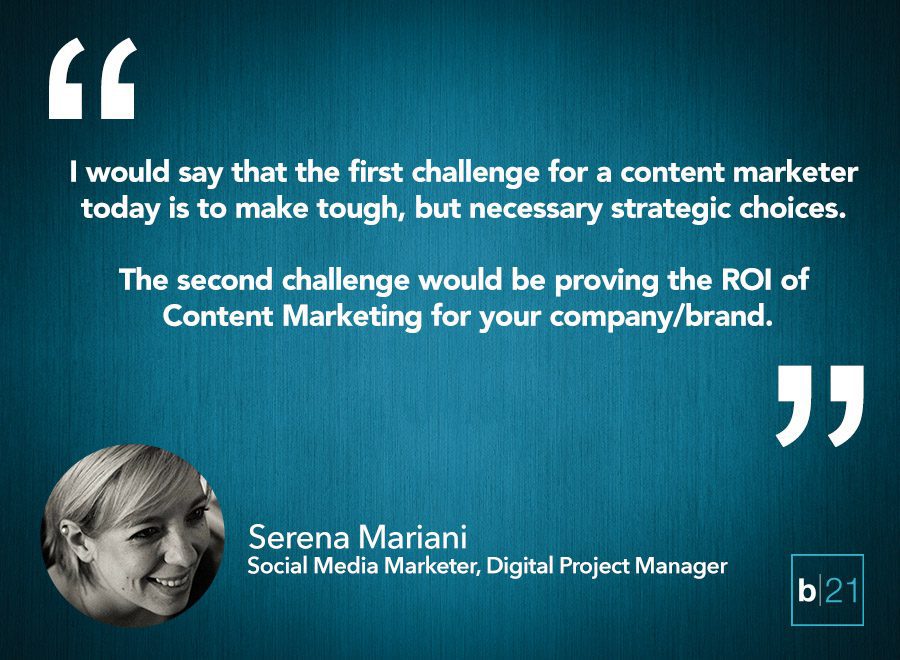 Do you have any tips for content marketers that have just started out?
Three things about content marketing I wish somebody had told me before – but it is ok, I learned them from experience instead:
1. Start with the objectives, set ambitious but realistic goals, and go achieve them (see previous answer).
2. There is no such thing as a "boring" subject or industry – don\'t shy away from jobs or assignments because they sound less sexy than writing jokes or posting pictures of funny animals a\' la Buzzfeed. In fact, technical or niche subjects offer great opportunities to provide value to customers through a well-thought content marketing strategy. For example, UK insurance company Simply Business is a great B2B content marketing success story.
3. It\'s about the story, not (just) the technology. Content marketing must start from good insights about your audience – what do your customers, prospects and stakeholders care and want to know about? It is of vital importance to nail this and decline it into a sustainable content plan, rather than jumping on the next social network bandwagon.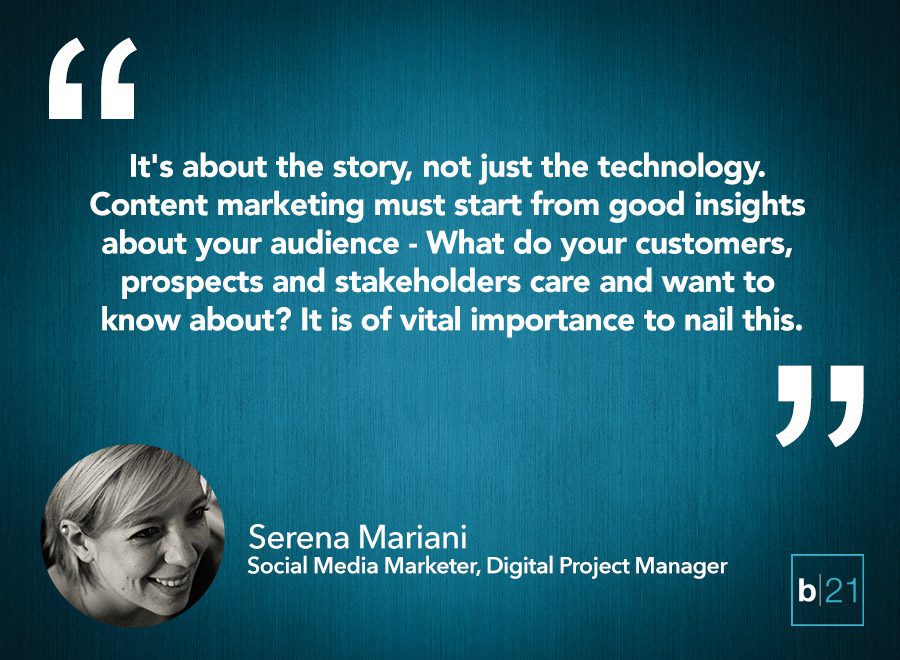 Any noteworthy tools that you use as part of your content marketing and would want to recommend to our audience?
On a daily basis, I use
Hootsuite
to manage a number of different social media channels on behalf of clients – remember, a good mobile up s a must for an online publishing and engagement platform as we live more and more on the go, and this includes content managers! For industry knowledge and professional development, I find the
Smart Insights
website and newsletters always informative and up-to-date. They also offer excellent content marketing plan templates and evaluation tools. Other must reads include
Copyblogger
and
Moz (aka SeoMoz)
. You may also want to look up the Content Marketing curriculum at General Assembly, where I am also an instructor.
Follow Serena on @social_serena or go through her digital marketing blog for some hands-on tips! We also highly recommend her food & travel blog, so check it out too!