Being rated as one of the most coveted fast food brands in the world doesn't come easy. Apart from keeping the best quality standard around the food making it 'talk of the town' requires a robust marketing strategy. Like all other businesses fast food brands have endorsed 'Social Media' as the new marketing mantra, and are in the race for more Facebook page likes.
The big question is how many of them are doing it right? We had shared with you in an earlier story about how McDonald's went wrong in its strategy and we assumed that this may just be the approach of food brands in general, till we witnessed a 400,000+ surge of likes on the Facebook page of an internationally renowned fast food brand! No guesses here, yes we are talking about KFC.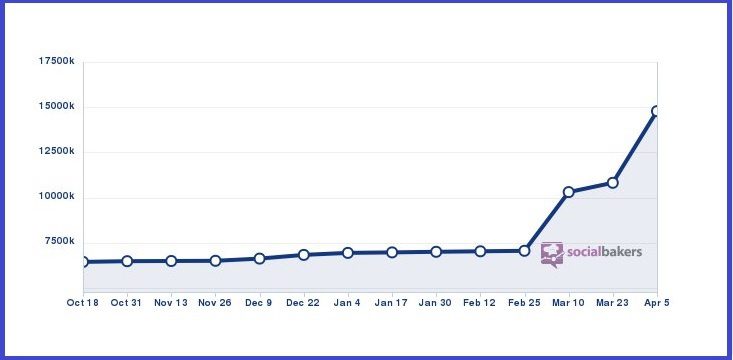 Facebook Analytics by Social Bakers
#HowDoYouKFC
KFC wanted to promote its limited-time Extra Crispy Boneless Chicken (sorry the product is off-shelf now) with an aim to elevate and empower its real user connection and hence devised a comprehensive campaign for the same with the hashtag #HowDoYouKFC, striking the right cord with the audience. March 27th, 2014 became an epic day in the history of KFC when this campaign broke all barriers.
The campaign gave the consumers an avenue to connect with the brand in a minimalistic and informal way. What made #HowDoYouKFC work was the basic principle of any business i.e 'Customer is the king'. Let's dive in to analyze this campaign better.
Keeping it Simple
"If you can't explain it to a six-year-old, you don't understand it yourself" – Albert Einstein
Social Media strategies that are elaborate are passé, especially when the target audience (read: customers) have the very little attention span. A crisp and clear strategy thus would work best for any brand. KFC kept this campaign very simple by directing customers to upload a review on any chosen social network with the hashtag #HowDoYouKFC using their iPhone and then pasting the link in the pre-assigned URL bar on their website and voila it's done! This user-generated content gave the brand, opportunity to analyze the consumer's authentic love for KFC products and also provided a unique opportunity to its followers.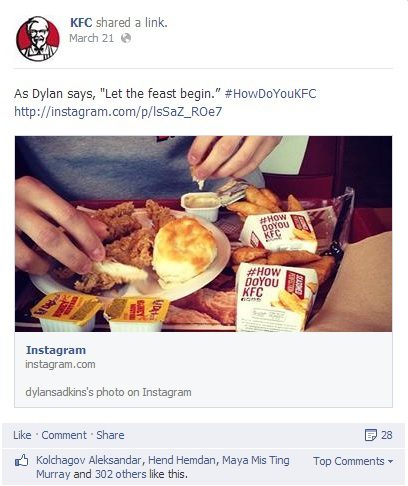 The #HowDoYouKFC strategy is pretty simple.
Cross Promotion Through Facebook
#HowDoYouKFC campaign gained momentum since the customers could participate in the run without compromising on time. The growing herd of food Instagrammers propelled the campaign further. All in all, this integrated approach increased the social footprint of the campaign.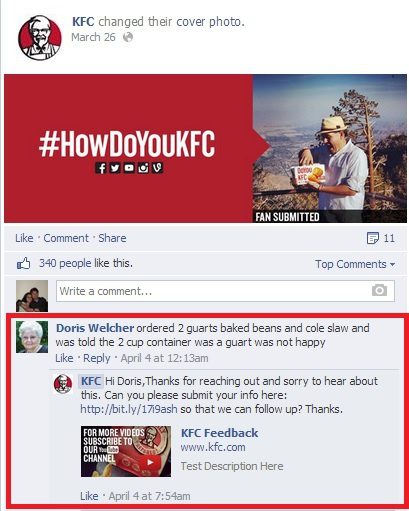 #HowDoYouKFC was propelled by Food Instagrammers
KFC also cross promoted entries from another platform on its Facebook page such as YouTube videos and vine videos which added to the virality of the campaign thereby boosting the Facebook fan page growth. The presence of celebrities added the right fuel to the fire.
Keep the Conversation Going
Ask any Social Media manager about the biggest challenge while managing their brand's fan page and they are sure to mention the constant conversation. Daily comment moderation can get pretty daunting especially when the volume of conversation is huge. In contrast to this situation, the customer psychology works pretty differently. For a customer, interaction with a brand through social media has become much personalized and everyone needs to be attended to especially when the comments are negative. KFC stuck to this philosophy and handled huge volumes of conversation on their Facebook page during #HowDoYouKFC campaign as well, without disappointing its loyal and new fans.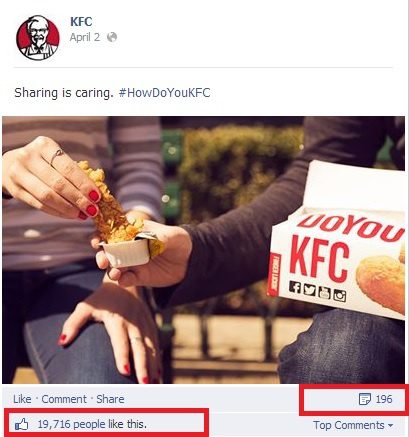 KFC managed negative comments during #HowDoYouKFC pretty well.
Great Content Always Wins
We harp on this aspect over and over again, but isn't it true? Great content goes a long way with your audience. There is also much truth in the fact that for a brand to gain such a hiatus during a campaign doesn't happen instantly. KFC has been sharing high quality content on its Facebook page consistently. In contrast to McDonald's content strategy, KFC has made sure to infuse a variety in their content by talking more than just pleasing 'food images'. During the campaign #HowDoYouKFC the brand shared posts and visuals which had a much personalized and emotional extension. KFC's Facebook page also consciously showcased how families can have fun with KFC products . Needless to say, this keeps the followers engaged in the brand beyond the food offering.

KFC played on the emotional aspect with #HowDoyouKFC
Gratifying the Customer – Win Hearts
Social Media contests and gratification go hand in hand today. To say that a campaign would lack momentum in absence of gratification is partially true. KFC used the same concept however with a twist. The best entries got a chance to feature on the cover picture on their Facebook page. The unique videos created by followers could also be used by KFC in their future ads. 14 chosen winners each week could also win $100 Visa Gift card!
Fans could make up on the Cover pic of KFC"s Facebook Page!
The #HowDoYouKFC campaign is more than just a marketing campaign and has indeed taken customer relationships to a new level. This campaign is great learning for all online community managers, in plain English 'It's Finger-Lickin' Good!'
Book your Radarr demo today!