Tencent's Weixin, internationally popular as WeChat, is the upcoming mobile messaging app. WeChat was launched in January 2011 and has its largest market in China and is steadily expanding in Asia – Malaysia, Thailand, India and Hong Kong.

Source: WeChat.com
For those who haven't had a rendezvous with WeChat yet some consumers would call it a combination of Whatsapp, LINE and Viber. In simple words – the app (like many others) can be used to send free instant message, voice, videos, stickers and more.
Being originally a Chinese app, they have reached a customer base of 600 million users. And, if you intend to target the audience which is brand loyal and has the purchasing power to spend on international luxurious products then having a presence on WeChat is pretty much a must for you.
What is WeChat?
As mentioned above, WeChat is an instant messaging app with focuses on personal interaction. Search Engine Journal article states that China's young, affluent and urban population makes up the majority of WeChat users. It's a mobile app that most of the Chinese teenagers have and apparently are engaged enough to check it once every 6 minutes on an average! WeChat has upgraded itself to WeChat version 5.1 on 16th January 2014, which includes features like:
Live Chat
Group Chat
Video Call
Moments
Voice Chat
Web WeChat
Emotions
Look Around
Drift a bottle
Social Gaming
It is also available in over 15 international languages including French, Hindi, Malay, Traditional and Simplified Chinese, Spanish, Italian, Russian, Portuguese and more.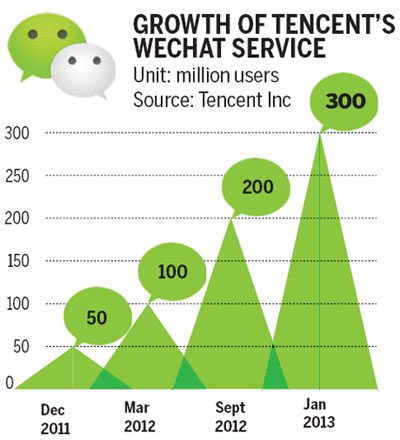 Growth of WeChat to 300 million users (Source: China Daily)
Why WeChat?
While IM (instant messaging) is not a key factor to opt for WeChat, it has started to offer more and that is e-commerce, gaming and Customer Relationship Management (CRM) system.
1. WeChat Payment
WeChat has added an interesting feature called WeChat Payment. An article by Jing Daily informs that this feature is completely integrated with the platform. The app allows them to link their bank card, receive benefits and in gist, are reducing the number of clicks (steps) to lead to a purchase. This feature will encourage impulse shopping from users! However, this feature is currently available only in China, but you can soon expect it to become global. What's interesting is that WeChat is becoming a strong contender for PayPal in China, i.e. the app is not being used for just chat, it's being used as a mobile wallet or storefront.
2. WeChat Gaming
On January 16th, WeChat introduced its version 5.1 in which it added 4 social gaming apps. The four games are: 'GunZ Dash', '2Day's Match', 'Craz3 Match' & 'Pencil Pilot'. Users can download the app from app store, share their scores and achievements as well.
3. WeChat CRM
WeChat has official accounts for brands to engage with their customers. The platform encourages them to have more personal conversations or exchange of messages/information. An article on Clickz talks about the two accounts. There are two kinds of accounts that any brand can have (and you're pretty much forced to chose one of them), they are:
Service Account – This account allows brands to broadcast personalised messages to their friends once a month. Brands can create a micro-site under the navigation bar, to serve all of its content to the user – available to them when they decide to visit your account. They can also chat with the customer directly from a private chat window. It appears the brands use the Store Locator feature most commonly wherein a customer can share their location and the brand replies with the closes stores available to the location shared. WeChat is also used for extensive Customer Relationship Management (CRM) by such accounts. For eg: Louis Vuitton has a LIVE customer relationship personnel who answers all the queries of the customers.
Subscription Account –  This is an option that will be mostly preferred by customers as they can control if they wish to be notified every time you wish to communicate with them. Customers can always opt-out of receiving your notifications. Subscription Account is displayed as the Official account, and the user will have to open a subfolder of the subscription account to access the content of any particular brand. Most of the personalities are using this account. What's interesting is that brands who offer coupons or offers on their account don't miss out on much as the customers are already in the habit of checking these accounts for the latest deals.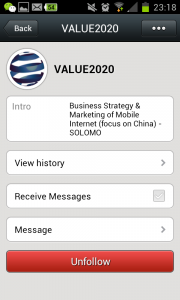 WeChat for Marketers
Multiple international brands like Louis Vuitton, McDonalds, Southern China Airlines, Uniqlo and more are using WeChat for extensive marketing in China. Chinese market with social networking users is rising exponentially. What is interesting to notice is that WeChat is the leading mobile networking app in China.

Social Networking in China in 2013 (Source: GoGlobe.com)
Before you get started on marketing tips it is important for you to understand as a community manager that where do you want your brand to be positioned? In the Services account or the Subscription account. Also, you need to plan how WeChat fits in your digital marketing ecosystem. Jumping into WeChat without a plan may not be a good idea, and so discuss the objective of using this platform with your client.
When a brand signs up for an official account they will receive a QR Code which the user has to scan to follow the brand on WeChat. Here are a few suggestions for an effective marketing inside and outside China.
1. One-to-one communication
WeChat discourages broadcasting of messages, enough to disturb a user. And so, your strategy on WeChat should be of one-to-one conversation. Use the platform for meaningful interaction that would be worth the user's time to check your message. Because, you can be assured that the customer will read your message in most cases. You can inform them about your brand's offers, give them coupons, update them about your new stickers that they can buy, answer their queries like a customer care, or use it in absolutely any creative way that would make them want to be with you.
2. Exclusive Communities
People like to feel special, so create groups with certain brand loyalists who can be engaged in sample testing, special offers, exclusive members of your club, VIPs, group discussions about your brand and more. Create communities that would allow them to know that they belong to an elite group, add value to their membership and provide them with features, offers to make them feel special as well.
3. Sell on WeChat
With WeChat Payment as an existing feature in China and an upcoming feature in other parts of the world, it is of extreme use to have an online store where you can direct your WeChat users with exclusive WeChat offers or coupons. These will ensure instant purchase. With exclusive coupons, or links you can also track the number of sales you've generated via the platform. Also, you can get stickers created for your brand or personality and share the download link with your fans. These stickers can be priced at a minimal cost.
4. Customer Care
An important way to use WeChat is by providing customer care services by privately replying to the customer and answering their queries. Telecom companies and other big brands can especially use such a feature. But as a company – you need to have extra resources and a team to be prepared to spend some time on it as this can be quite a labor-intensive job.
5. Games on WeChat
WeChat is an upcoming social gaming platform as well. Brands can develop custom games to engage their customers. For eg: Soon to be released movies can come up with games to engage the audience.
6. Campaigns on WeChat
One of the most interesting campaigns was done by Starbucks – songs for your mood. In this campaign, Starbucks asked users to share a smiley that depicted their mood and in return, Starbucks shared a song that reflected their mood. This campaign lead them to gain 130,000 members in a matter of few months, which was quite incredible.
What you as a marketer have to be careful of is that the campaign is personal and talks to the target audience at a one-to-one level. Whether you're asking them for their favorite recipe, choice of destination, their mood, or simply if they would want to buy your latest collection of apparel, the messaging has to be simple, to the point and crisp. Get creative with your campaign but keep it simple so that without wasting their time they can start to chat with your brand.
Book your Radarr demo today!