As a Social Media aficionado, I usually spend few hours exclusively to update myself with the latest in Social Media world, especially through Facebook, Twitter and LinkedIn. While Twitter and Facebook gives me an opportunity to be updated with both personal and real time happenings in my network, I use LinkedIn not only to connect with like-minded individuals, but also to dive deep into quality discussions, something that has helped me evolve better.
Social media and community managers today are entrusted to build an effective online community, and while doing so most of them are all turning to the big 3 – Facebook, Twitter and Instagram. This aspect provokes me to think about the role that LinkedIn plays for a brand and how do Community Managers dabble in the same? Surely it could be more than just a platform to publicize your company to professionals?
LinkedIn Is More Than Just A Networking Tool
In our quest to understand this perplexed scenario, we got in touch with a handful of social media professionals to understand their viewpoint about this professional networking site. And of course most of them were contacted through LinkedIn. Belinda Nash is a very active LinkedIn netizen and Head of Social Media at Socialize. She is also the online Editor and Community Manager for two very successful 'Groups' About Us and #thebigupgrade where she contributes and actively interacts with people. Sharing content on LinkedIn is key for her: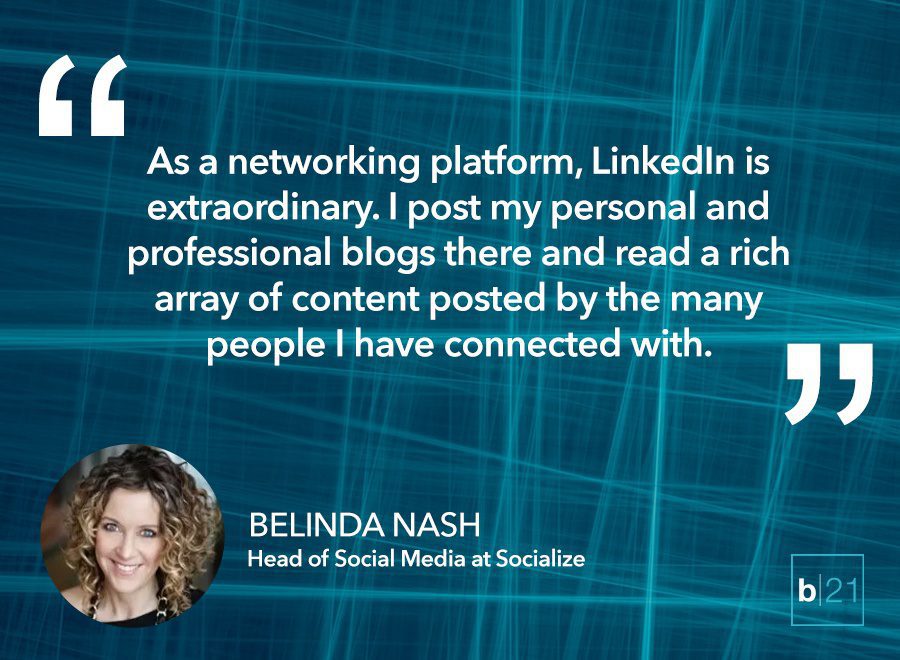 Just like its counterparts LinkedIn marketing is gaining popularity and is being used by brands to explore the numerous marketing opportunities that it provides. David Kyle, Community Co-ordinator at HootSuite also shares why he thinks LinkedIn is an amazing network for businesses to be on: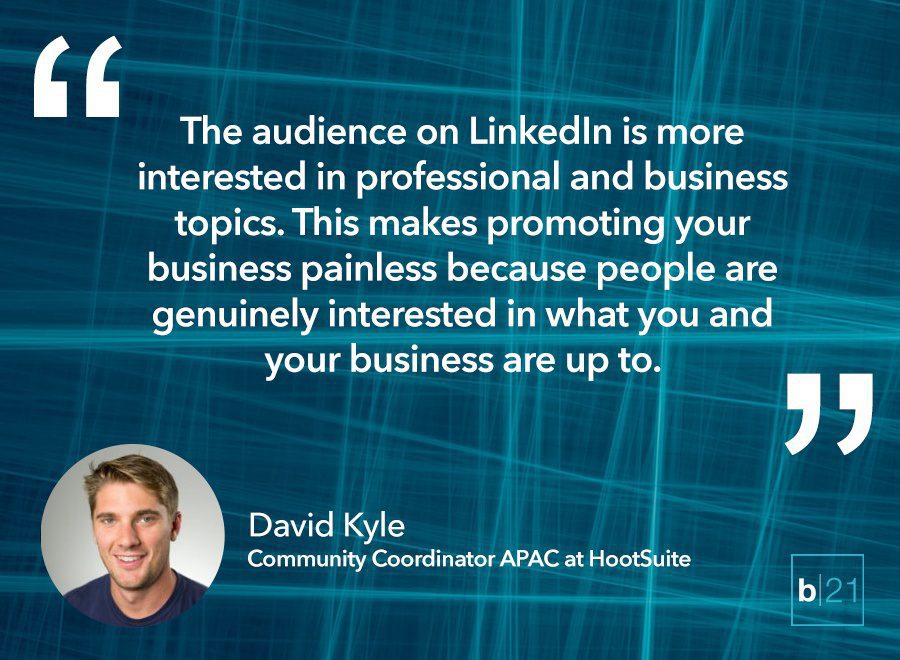 Brands can use LinkedIn to increase ROI through channels such as LinkedIn Ads, LinkedIn display ads and Custom Groups.
5 Ways Community Managers Can Optimize LinkedIn
Here's a community manager's guide to LinkedIn – a 5-step checklist (with inputs from best in the industry!) on how to maximise this social media platform.
1. Maintain An Updated Personal Profile
They say charity begins at home; hence as a Community Manager ensure that as the face of the brand your personal profile is up-to-date as this builds more credibility for job seekers, employees, potential partners and customers. It's also a great idea to make sure that the employees too have an active profile since it validates the quality of an organisation's workforce and strengthens its employer brand.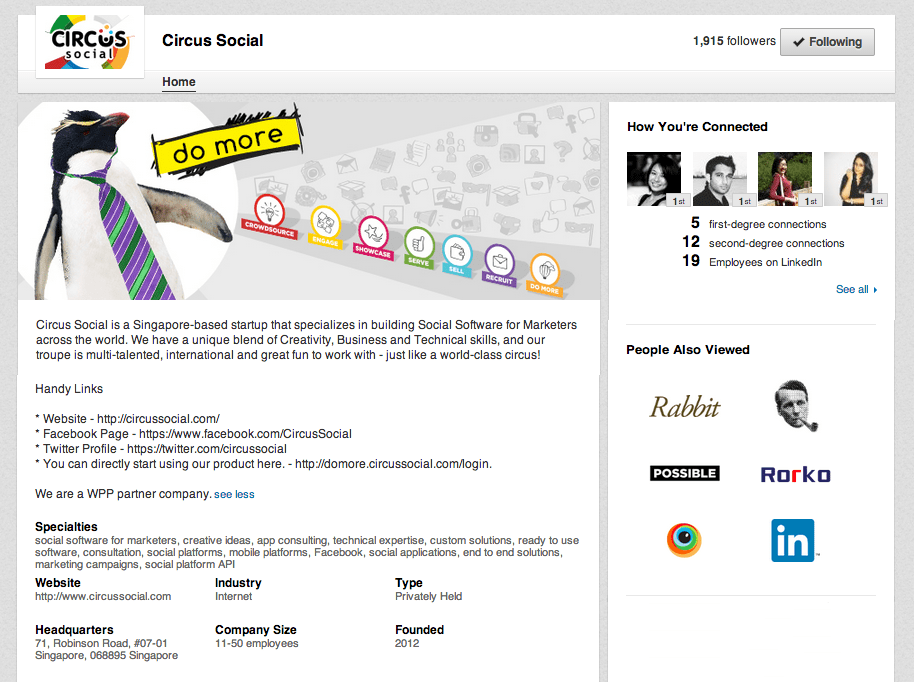 David does a great job at updating his LinkedIn profile with great content.
2. Maintain An Updated Brand Profile
Have an updated company page is important for a brand. A lot of brands today do not understand that LinkedIn is a bona-fide platform for brand and employers alike since it showcase your brand to the world in a more businesslike light. The company page should therefore clearly mention the details about the objectives and vision of the brand, its employee strength etc.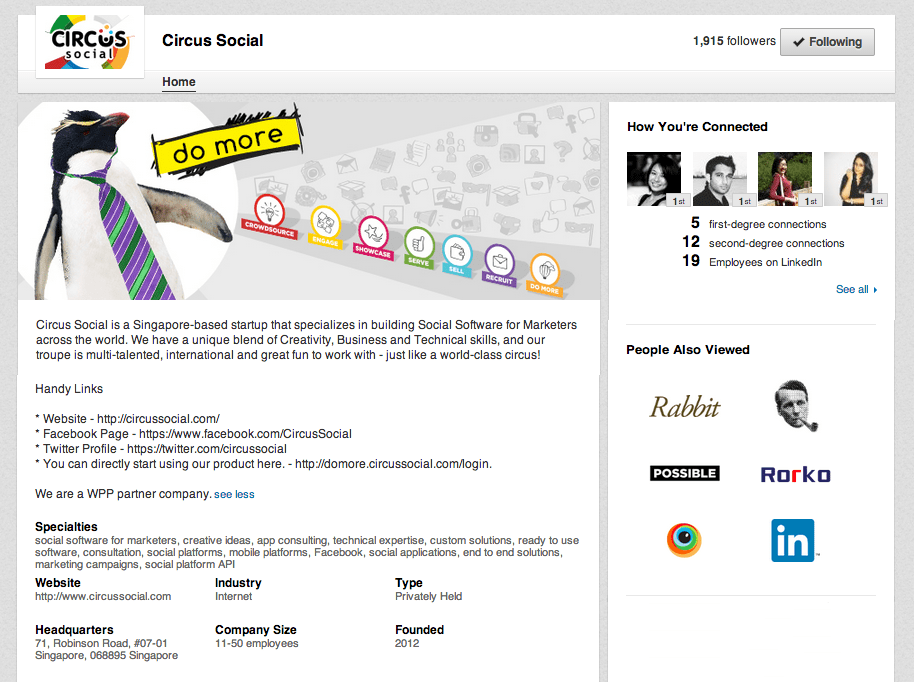 Ensure your brand's profile is constantly updated as well!
3. Participate Actively In Communities
As a Community Manager involve your followers by introducing superior content. This may include business blogs, updates and job postings. Interact with other people's post and join and contribute in groups by sharing interesting articles that you stumble upon! This would help you to increase your reach and have a greater chance of reaching an audience that will interact with your business on LinkedIn. LinkedIn is a great place to get involved with communities of likeminded people. Chances are that there is a community set up for your interest. Join it and get in the conversation!

Always indulge in conversations and contribute in groups
4. Follow Influencers In Your Industry
Some of the best minds are on LinkedIn. Follow LinkedIn influencers and you'll be on top of the latest trends. In case of a noteworthy announcement, (New COO, change in policy etc) one can also look at tapping this network for e-mail marketing and notifying the people who really matter to the business first!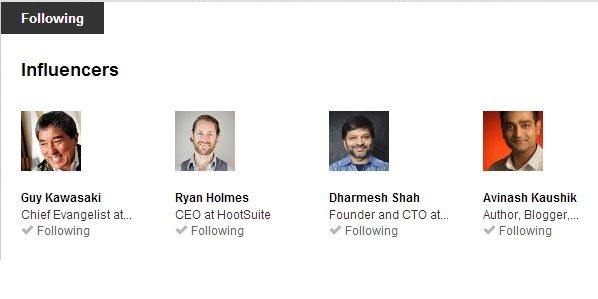 Follow LinkedIn influencers and you'll be on top of the latest trends.
5. Aid Organic SEO:
Did you know that an optimized LinkedIn page can boost SEO for your brand, thereby better visibility? Well, now you know! And the task does not require a high level of intelligence. Simple activities like adding a website address, blog address, Twitter details etc can get the desired outcome. Of course, since it is a two-way street this would have better results when the company page, as well as employee profiles, are updated.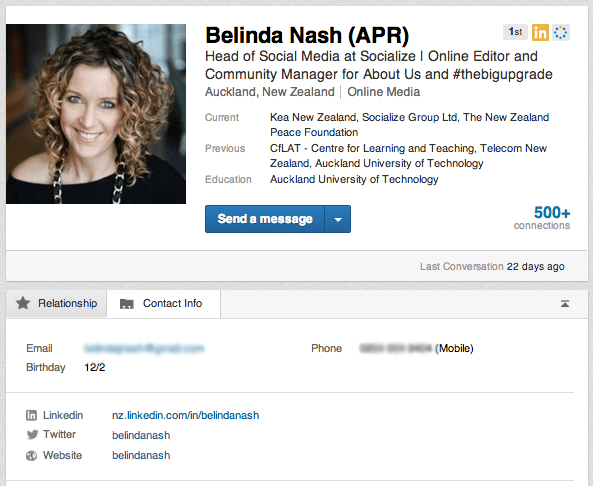 Add in social media links to boost SEO!
Clearly LinkedIn is a great platform for Community Managers for both professional and personal enhancement and if you are avoiding these slipshod mistakes, I am sure you are on the right track. Community managers who've got more tips that might be missing from this guide, do share your ideas with us!
Book your Radarr demo today!
[Featured Image Courtesy: Twin Design / Shutterstock.com]